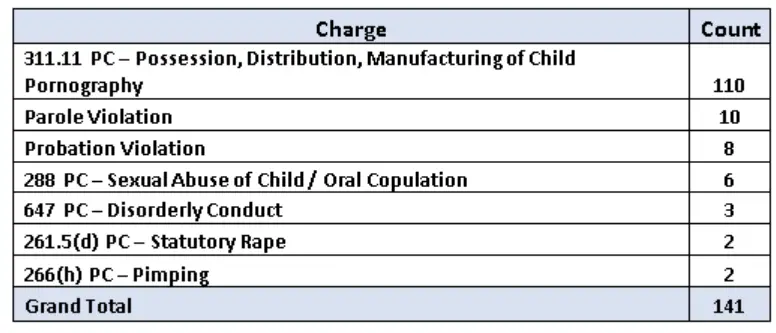 During the week of September 6th through September 12th, 2022, the Internet Crimes Against Children LA (ICAC) Task Force conducted Operation Protect the Innocent. This Operation spanned five counties and involved 64 of our affiliate law enforcement agencies.
The Internet Crimes Against Children (ICAC) Program Task Force was developed in 1998 by the United States Department of Justice's Office of Juvenile Justice and Delinquency Prevention (OJJDP). The goal is to assist local, state, and federal law enforcement agencies with investigating internet related crimes against our youth.
Who will you vote for in the OC 2nd Supervisorial District?
The Los Angeles Regional ICAC Task Force (LA ICAC), led by the Los Angeles Police Department (LAPD ICAC) covers five Southern California Counties (Los Angeles, Orange, San Bernardino, Santa Barbara, and Ventura). As the lead agency, the LAPD ICAC unit is responsible for the Federal grant through OJJDP and a State grant through the California Governor's Office of Emergency Services (CAL OES). The grants are designed to provide forensic equipment and training to the agencies who are members of the LA ICAC Task Force.
The LA ICAC Task Force receives CyberTips (CT's) from the National Center for Missing and Exploited Children (NCMEC) that involve the possession, distribution, and manufacturing of child sexual abuse material (CSAM), and the sexual exploitation of children through the internet.
The goal of Operation Protect the Innocent was to conduct investigations and arrests by utilizing CT's received, identifying suspects for arrest, and contacting individuals on probation and/or parole. During the Operation, the LAPD and affiliate law enforcement agencies also conducted compliance checks on 290 Penal Code (PC) – Requirement to Register as Sex Offender, with a nexus to internet crimes. Multiple residential search warrants were served through-out the five counties, in addition to arrest warrants, which focused on child predators.
As a result of the collaborative effort
Targets Identified: 657
Targets Contacted: 510
Targets Arrested: 141
The Los Angeles Regional Internet Crimes Against Children remain vigilant in protecting the most vulnerable victims, our children. While we will continue to investigate, we are looking for parents and caregiver's partnership in our endeavor. Parents are used to seeing children with an electronic device in their hands, most of the time this enriches our children's lives and helps with their education; however, parents and caregivers have to know that there can be danger awaiting their children on the internet.
Parents and caregivers can help protect their children by being aware of the dangers that exist, educate your children and yourself, and monitor your children's internet usage. Parents and caregivers are encouraged to visit: www.Missingkids.org/NetSmartz for age appropriate educational activities for your children and adults.
Most importantly, beware of what websites and social media accounts your child have, and talk with them about internet safety. By having parents and caregivers more involved, we can reduce the number of children victimized in this manner and help to keep the Los Angeles Region safer.