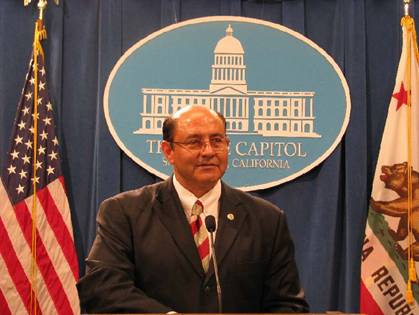 Senator Lou Correa is hosting a town hall meeting today entitled "Transparency & Accountability: Pursuing the Public's Right To Know," from 1 pm to 3:30 pm, at the Board Chambers of the Rancho Santiago Community College District building.
Correa presented Senate Bill 501 (SB 501) on the Senate Floor in August. This legislative measure requires each officer or designated employee in local government to annually file a compensation disclosure form that provides compensation information for the proceeding year.
Unfortunately the Legislature did not pass this bill in time so Correa plans to bring it back in January, according to the League of Cities.
Locally, the City of Santa Ana quickly acted to post their executive and Council salaries, which you can read by clicking here, after the Bell scandal broke.  Moreover, three Council Members actually started blogs this year in order to further communicate with the public, including Mayor Miguel Pulido, and Council Members Michele Martinez and Sal Tinajero.
Click here to read a Senate Briefing Paper provided by Correa's office regarding the issue of Transparency in Government.
Here is the official press release from Senator Correa's office, followed by the actual meeting agenda:
Press Advisory: Oct. 18, 2010
Contact: John Scribner, 714-558-4400
Senate Local Government Committee and Senator Correa to Hold Hearing on Official Pay and Public's Right to Know
!Santa Ana, CA) – Senate Local Government Committee members, at the request of Senator Lou Correa (Orange County), will convene a special hearing to pursue issues regarding transparency & accountability in local government and the challenges presented by the revelation in the City of Bell and elsewhere.
Senator Correa invited the committee and Chairwoman Senator Christine Kehoe to hold a hearing in Orange County to explore four important policy questions: Should state law require more compensation disclosure? What compensation should public officials disclose? Which public officials should disclosure their compensation? How should public officials disclose their compensation.
According to Senator Correa, " The taxpayer is the one paying these bills, and they are entitled to a full and complete accounting of where their taxes go. Those in the public sector who seek huge hidden payouts must not be allowed to keep their actions a secret." The Senator went on to thank the committee Chair for agreeing to hold the hearing in central Orange County.
The topic of the hearing is "Transparency & Accountability: Pursuing the Public's Right To Know", and is slated for Wednesday, October 20 in the Board Chambers of the Rancho Santiago Community College District, 2323 North Broadway, Santa Ana, CA
Attached with this advisory is a tentative agenda along with a briefing paper prepared by the Chief Consultant of the Senate Local Government Committee.
Senator Correa authored of Senate Bill 501, which sought to compel broader disclosure by local government officials. It is the Senator' s intention to reintroduce a similar measure in the upcoming legislative session.
###
P R E L I M I N A R Y A G E N D A
Transparency & Accountability: Pursuing the Public's Right to Know, A Legislative Oversight Hearing
1:00 to 3:30 p.m.
Wednesday, October 20, 2010
Board Chambers, Rancho Santiago Community College District
2323 North Broadway, First Floor
Santa Ana, California
1:00 to 1:10 p.m. Introductions.
Senator Christine Kehoe, Vice Chair, Senate Local Government Committee
1:10 to 1:30 p.m. Background & Current Law.
Peter Detwiler, Consultant, Senate Local Government Committee
Lori McGartland, Chief, Employer Services Division
California Public Employees Retirement System
Thomas W. Newton, General Counsel, California Newspaper Publishers Association
1:30 to 1:50 p.m. Public Disclosure Proposals.
Elaine M. Howle, CPA, California State Auditor
Fred Smoller, Public Administration Program Director, Brandman University
1:50 to 2:40 p.m. Local Officials' Reactions and Advice.
Hon. Kim Dolbow Vann, Colusa County Board of Supervisors, California State Association of Counties
Hon. Judy Mitchell, Rolling Hills Estates Council Member, League of California Cities
Hon. Bette Boatmun, Contra Costa Water District, California Special Districts Association
Richard Bray, Superintendent, Tustin Unified School District, Association of California School Administrators
Dr. James Walker, Community College Search Services, Community College League of California
Nick Berardino, General Manager, Orange County Employees' Association
2:40 to 3:10 p.m. Advice and Comment.
Time for public comments.
3:10 to 3:30 p.m. Summary Observations.
Time for legislators' reactions.
3:30 p.m. Adjourn.
Senate Local Government Committee and Senator Correa to Hold Hearing on Official Pay and Public's Right to Know