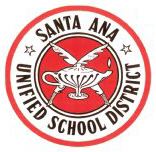 The Santa Ana Unified School District is conducting Parent Workshops, for parents of 9th Graders, at Saddleback High School, located at 2892 S. Flower St., in Santa Ana, on Thursday, February 4, at 9:00 a.m. and 6:00 p.m.
The workshops will be available in English & Spanish.  The presenter is Padres Promotores. 
The theme of the workshops is "How to Successfully Graduate from High School."
Information that will be disclosed at the workshops includes:
What is a GPA and what does it mean?
What classes should my child be taking?
What is CAHSEE?
How many credits are needed to graduate?
…and much more!
This workshop will be presented by parents.
Child care available for children 4 to 10 years of age.  To register call Blanca Gutierrez at 714-558-5622.
Click here to read more about the workshops in English and click here to read about them in Spanish.