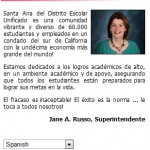 The SAUSD administrators must be reading my posts very closely.  They finally loaded the Google language translator widget on their website, on the home page, on the bottom, left side corner.  However, they apparently don't realize that you have to load the tool on every single page, otherwise it won't work.
They still are not offering any way for the public to communicate with the School Board members.  No email addresses.  No phone numbers.
Click here to read the rest of this post.