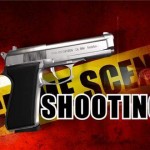 Bad enough that so many of Santa Ana's young people are getting shot in our city, now Arturo Morelos, a 17-year-old resident of our city has been found shot to death in Santa Fe Springs, along a set of railroad tracks, according to the O.C. Register.
A worker at a nearby business called police about 8:30 a.m. to report a "man down" along a set of side tracks servicing businesses near the 13700 block of Carmenita Road, according to the Whittier Daily News.
Morelos was pronounced dead along those railroad tracks according to Los Angeles County Department of Medical Examiner-Coroner Assistant Chief of Operations Ed Winter.
Whittier Police have not issued any information about the possible shooter. They are also not sure when the shooting took place.
Anyone with information can reach Whittier police at 562-567-9200. Tips may also be submitted anonymously to L.A. Regional Crime Stoppers at 800-222-8477.