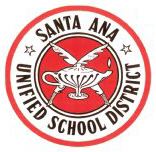 FOR IMMEDIATE RELEASE: June 1, 2016
Contact: Deidra Powell, Chief Communications Officer, (714) 558-5555 office, (714) 673-4995 mobile

ONLINE VOLUNTEER TUTORS FROM BUSINESSES MEET FIRST GRADE STUDENTS FOR THE FIRST TIME FACE TO FACE AFTER TUTORING THEM IN READING ALL SCHOOL YEAR
(Santa Ana) – With the goal of every child reading at grade level by the end of the third grade, the Santa Ana Unified School District, with the partnership of Innovations for Learning, and the support of Orange County United Way, launched "Read Santa Ana Read," a volunteer program supporting nearly 250 first graders at reading at the beginning of the 2015- 2016 school year. Volunteer tutors from Wells Fargo and PIMCO will finally get an opportunity to meet the first graders face to face whom they have been tutoring in reading all year long on June 3, 2016, at 1:00 p.m. at Walker Elementary School, located at 811 E. Bishop Avenue in Santa Ana, and June 7, 2016, at 10:30 a.m. at Madison Elementary School, located at 1124 East Hobart Street in Santa Ana. For 30 minutes once a week, business volunteers from the community have helped first graders in the Santa Ana Unified School District learn to read without ever leaving their desk. Through an online tutoring program, Tutormate, volunteers have been able to interact with our students remotely from their computers and tablets and tutor and encourage them to become strong readers," said, Michelle Rodriguez, Ed.D. Assistant Superintendent of Teaching and Learning of the Santa Ana Unified School District.
Through its "FACE 2024" community-wide action plan, Orange County United Way is partnering with targeted schools, school districts and non-profit organizations in the effort to cut the high school dropout rate in half by the year 2024. Early grade reading is a vital component of that effort. "We're pleased to partner with Santa Ana Unified to ensure that students can read by the end of third grade, an important stepping stone on the road toward graduation," announced Max Gardner, President and CEO of Orange County United Way. Last year, United Way launched the countywide "Read Aloud 15 Minutes" public awareness campaign to promote the importance of grade level reading by 3rd grade.
Santa Ana is the only school district in Southern California to partner with Tutormate to offer this innovative style of tutoring and volunteering to students and community members. "TutorMate's "virtual volunteer" approach enables busy professionals to find the time to give back to their community and area schools in a way that not only makes life changing impacts on at-risk young readers, but does so without the need to spend precious volunteer time in traffic, commuting across town," said, Dan Weisberg, National Director of Tutormate Online Literacy Program.
The Santa Ana Unified School District educates approximately 53,000 students at 57 school sites throughout the Santa Ana community. The K-12 school district is the largest in Orange County and the second largest employer in Santa Ana, with approximately 4,500 educators and staff members. Contact us at 714-558-5555, or deidra.powell@sausd.us. For more information about our schools, visit www.sausd.us.
To stay connected with the news and events occurring in the Santa Ana Unified School District Schools, download our mobile app in the Apple and Google Play Store and follow us on Facebook and Twitter.
###