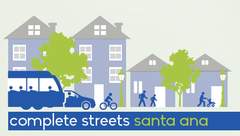 City of Santa Ana, Downtown Orange County
Community: Santa Ana Calls on Residents and Business to Help Make the Streets Safer for Pedestrians and Bicycles
Imagine a Central Santa Ana where walking and riding your bike is safe and stress free. That is what the City of Santa Ana is asking community members to do during a series of interactive workshops, bike tours, and walking tours from June 2 through June 4 and on Saturday, June 18 at the Southwest Senior Center (2201 W McFadden Ave, Santa Ana, CA · (714) 647-5306). They recognize that those who live, work, and play within the area are the real transportation experts and they need your help. Participants are welcome and encouraged to participate on all workshop days. So come on out and join us for great discussions, walks, and bicycle rides throughout Central Santa Ana.
The Central Santa Ana Complete Streets Plan is a Caltrans funded planning effort. When complete, it will provide guidance to establishing a network of bicycle and pedestrian corridors that connect destinations within Central Santa Ana.
Complete Streets are roadways that are designed for everyone. They enable safe and attractive access throughout the city by foot, transit, bicycle, and car. The City has identified five initial corridors but it will be the public's job, the residents of Santa Ana, to identify a complete network and provide valuable feedback on what improvements you would like to see on these streets.
The City has done this before. The Santa Ana Downtown Complete Streets Plan was a huge success last year. The City was awarded over $9 million in grant funds for Complete Street projects in the Downtown area.
Friday, June 3, 2016
2:00 – 2:30 Sign-In and Introduction
2:30 – 3:30 Walk and Bicycle Tours
4:00 – 5:00 Workshop
Saturday, June 4, 2016
1:00 – 1:30 Sign-In and Introduction
1:30 – 2:30 Walk and Bicycle Tours
3:00 – 4:00 Workshop
Sunday June 5, 2016
2:00 – 4:00 Open House
Saturday, June 18, 2016
10:00 – 12:00 Open House
For more information contact, Cory Wilkerson, Active Transportation Coordinator, cwilkerson@santa-ana.org (714) 647-5643 or visit http://www.santa-ana.org/completestreets/.
For full details, view this message on the web.