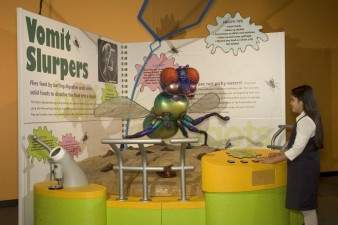 Check out DSC free day  (for Santa Ana residents) at the Discovery Science Center this Tuesday May 6, 2014, from 10:00 am – 5:00 pm, at 2500 North Main Street Santa Ana, 2500 North Main Street, in Santa Ana. Main Number: 714-542-CUBE.
Santa Ana residents receive up to 4 free admissions per address with valid ID (proof of residency) on the first Tuesday of every month. Cannot be combined with any other discount or offer. Excludes special events and ticketed exhibitions or shows.
Be sure to check out Animal Grossology:
Ever wonder why dogs sniff each other's rear ends, why cows need four stomachs to digest their food, or why cats spit up hair balls? You can find out the answers to all these nasty questions and more at Animal Grossology! Get up close and personal with some of the slimiest, stinkiest and downright yuckiest creatures on Earth through hands-on, interactive displays.
Find out why flies throw up on their food (and sometimes our food!) before they eat it
Explore the four different colors of blood and which colors belong to which animals
Play the Slime Game and discover which animal is the slimiest of them all
Become a dookie detective and investigate doo doo
And much more!
Interactive Exhibit Areas
Dookie Lovers
They come in all sizes, textures and shapes. But, dookies provide answers to many of our animal mysteries. Become a dookie detective and investigate which animal left its doo doo in the penguin's ice house. Then become a scarab beetle and compete against others to push a giant dookie ball into your nest in the Dung Ball Rally.
Blood Suckers
From blood-sucking animals to the many colors of blood, you will be enthralled by this interactive area. Learn why and how blood-sucking critters drink your blood as you pump blood into a tick, mosquito and leech, and see how they are anatomically different. Then play a game of Transfusion Confusion and match each animal with one of four blood colors.
Slime Makers
Slime is a very important ingredient for many animals and provides many important functions; from facilitating motion, to digestion, to defense. Play the Slime Game and answer slimy questions to become the "King of Slime!" Then, take an underwater adventure in our ocean playground and see some unusual creatures found way down deep.
Vomit Munchers
Step up to a game of Pellet Purge where you will dissect an owl pellet and reassemble the skeleton to learn about what owls eat. Then, check out the insides of a life size cow and watch as food makes its way through its four stomachs in "ruminant" digestion to process food. Discover the myths about the fly world as our larger than life fly explains the gross truths behind some of their behavior. Finally, chose either a particle of food or a hairball and learn about cat digestion by trying to make our cat digest it in this maze challenge.
The Discovery Science Center is located at the intersection of Main Street and the 5 freeway in Santa Ana, just 1/2 mile north of 17th Street and 1/4 mile south of the Main Place Mall.
Bank of America Free Day

Bank of America cardholders receive free admission on the first Sunday of each month. Photo ID and any valid Bank of America/Merrill Lynch credit or debit card must be presented. One free general admission limited to cardholder only. Excludes special events and ticketed exhibitions or shows. Cannot be combined with any other discount or offer.
Main Number: 714-542-CUBE
Parking $3
Limit 3 children with each free adult