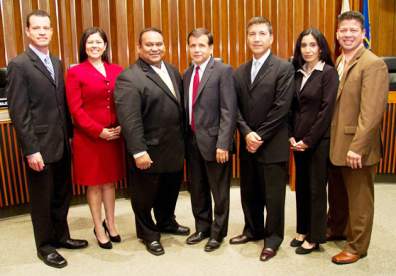 So Santa Ana now has an all-Latino City Council, a Latino City Manager and a Latino Chief of Police.  But why then are the cops still conducting DUI checkpoints that rarely catch drunk drivers and most often result in harassing immigrants?  And why are they still going after cruisers on Easter and Cinco de Mayo? And what is this business with putting immigrants in our city jail?
Not to mention all of these Latino city officials watching as our downtown gets cleansed of Latinos in order to mollify out of town hipsters.

If you think the cruiser busts are good policing check out this post by a resident who actually observed what was going on in the latest Easter cruising crackdown:
#RottenOranges Part 01 – #SantaAnaLockDown
Easter in Santa Ana
Yesterday we were invited to join Orange Crew and Beautiful Chaos to support Cop Watch Santa Ana in what we were told were racially motivated police check points set-up in the city of Santa Ana the county seat for Orange County, California. What we found was infinitely worst. We now definitively know what a #policestate looks like.
As soon as we arrived in Santa Ana we have difficulty in getting to our destination, a Jack in the Box at the corner of Bristol and Edinger, due to traffic cones and barricades set-up through-out the downtown area. We arrive 20 minutes late. Not within ten minutes of arriving Santa Ana PD pull a young Latino male over right in front us. We begin filming. An additional motorcycle officer arrives and immediately begins pushing Beautiful Chaos and myself – telling us to "get back". The legal definition of assault is nonconsensual physical contact – we have been on the ground for less than ten minutes and have already been assaulted by Santa Ana PD.
Approximately 30 people, mostly Hispanic, have shown up for a Film The Police skill share presented by Cop Watch Santa Ana a group of mostly Hispanic youth no older than their early 20's. We ask a woman close by, a school teacher, what exactly is going on? She says that Santa Ana PD does this, shuts down this entire neighborhood, every Easter. As you can imagine, Easter is kind of a big fucking deal within the Hispanic community. After a meal and church services, whole families would come to Santa Ana, to this neighborhood, to celebrate Christ's resurrection together and to people watch. Videos posted online show these gathering were festive and well attended. Santa Ana streets filled with youths showing off their low-rider and hot rod cars. Then beginning in 2012, Santa Ana PD using the hot button excuses of "cruising" and "gang violence" began putting this neighborhood under a virtual state of martial law – shutting down streets so that one attendee said, "I live just two blocks from here, but cannot get home. If I want to get home I have to leave my car about six blocks away and walk to my house".
VIDEO of assault begins at 6:58: 

http://www.ustream.tv/recorded/46488403
VIDEO past Easter in Santa Ana:http://www.youtube.com/watch?v=Xipy8TkJh2o
http://www.youtube.com/watch?v=jL3RreKYBmI
http://www.youtube.com/watch?v=m6r5evoAtTM
VIDEO Mainstream media report from 2011:http://www.youtube.com/watch?v=SeikoKhbDtA
ARTICLE with Cop Watch Santa Ana:https://newsantaana.com/2014/04/20/santa-ana-copwatch-is-ready-for-tonights-sapd-easter-cruising-crackdown/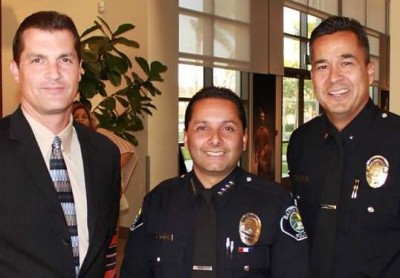 Santa Ana is the county seat for Orange County. According to U.S. Census Bureau data shows Santa Ana to be 79% Hispanic. The neighborhood we are in, that Santa Ana PD has on #lockdown, is 98% Hispanic and includes some of the poorest of the city's residents.
C with Cop Watch Santa Ana begins his Film The Police training. He cautions attendees that even though, as citizens – citing specific California legal codes – they have every right to observe and record police actions from a distance, police are likely to react negatively, even violently as they all had just witnessed Sergeant Craig assault Beautiful Chaos and People Rise Up Radio staff just a few minutes earlier.
Shortly thereafter we break out in teams to observe the police. We are amazed to the extent that the city of Santa Ana has been shut down. Block after block we see traffic cones, barricades, and "Street Closed" signs. Some blocks are completely closed to vehicle traffic. Public transportation has been cut-off to the entire area. Some bus stops refer riders to 1st Street – some 17 blocks away. Everywhere we turn we see police cruisers and motorcycle cops. We are being followed by Santa Ana both on the ground and in the sky as a police helicopter follows our every move. It seems that whatever direction we go, Santa Ana PD pulls over a vehicle in the opposite direction. We run to observe these stops. Most motorists appear to be let go with a "warning", it is never clear why they were stopped to begin with. In the distance we see another team running – we run to catch up. Santa Ana PD has stopped a group of youths on bicycles. None of the vehicles have their lights on and it is difficult to see what is going. As we arrive, the police turn their attention on us, a few of the youths begin cycling off – we encourage them to leave the scene, that we will take care of their friends. The police have a couple of the youths on the ground with their hands behind their backs. We begin filming. More Santa Ana PD, lights flashing, arrive on the scene. Sergeant Craig appears to be in charge. In the end, all of the youths are released. In total, we observe at least five stops – only one arrest. No one has been killed by Santa Ana PD this evening.
Everywhere Cop Watch Santa Ana goes they are welcomed by the community. They receive big smiles, some hugs, peace signs, and "thank you", both in English and Spanish is heard often.