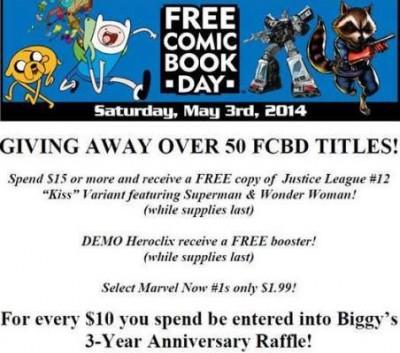 Free Comic Book Day is coming up this Saturday, May 3, 2014.  Free Comic Book Day takes place the first Saturday in May each year – when participating comic book shops across North America and around the world give away comic books absolutely FREE* to anyone who comes into their stores.
Locally you can visit Biggy's Comics and Games, located at 5110 Westminster Ave., Suite F, in Santa Ana, for your free comic book, this Saturday.  New comic books are always 10% off at Biggy's and they are happy to pull your subscriptions and give you 20% off on these titles as well.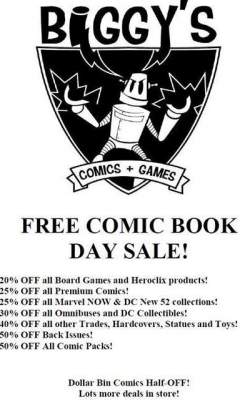 Biggy's is also going to give you a raffle ticket for every $10 you spend this Saturday, as part of their 3 Year Anniversary Raffle!  And if you spend $15 or more they will also give you a free copy of Justice League #12 – the Kiss variant featuring Superman and Wonder Woman!  You will also be able to buy select Marvel Now #1s for only $1.99.
Biggy's is also have a Comic Book Sale this Saturday.  You can get half off on back issues and buy dollar bin comics for half-off as well.
Find a participating shop for Free Comic Book Day.