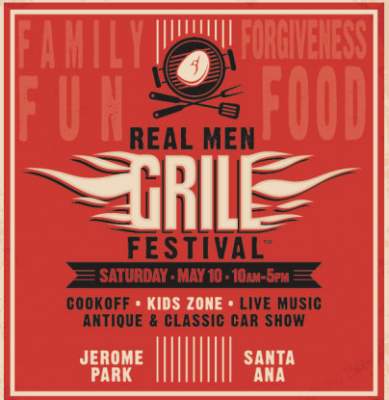 The Real Men Grill Festival™ is set for Saturday, May 10, 2014, from 10 a.m. – 5 p.m. at Jerome Park, located at 726 S. Center St., in Santa Ana. The event's mission is to strengthen our community through positive role models in the home.Real Men Grill Festival™ is a community outreach event of Brown Temple and its ministry partners in Orange County CA.
The activities are as follows:
Cook off (Contestants will compete for best bar-b-que)
Kids Zone
Contemporary Christian and Gospel Music Concert
Orange County School of the Arts Jazz Concert
Antique and Classic Car Show
This festival was scheduled as a Mother's Day community event to celebrate moms — (there will be a special tribute to mothers), while also highlighting male culinary skills and promoting healthy role models in the home.
Wells Fargo Bank, Sam's Club and The Old Times So. Cal Car Club are among the participating partners.  Several hundred people of all ages are expected.
RMGF is a non-profit/501c3 event. Some of the proceeds will be donated to the Orange County Sheriff'sDepartment's Youth Initiative.
For more information please contact: Michelle Cole at (805) 637-0750 and/or mcole@thesbnn.com. A community outreach event ofBrown Temple C.M.E. Church and its Ministry Partners www.thebt.orginfo@thebt.org
###