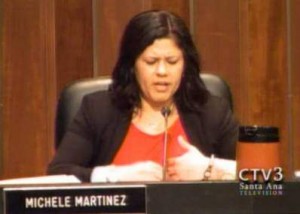 Adios Martinez?
Inside sources tell me that Santa Ana Council Woman Michele Martinez, who lost badly last June in her bid for the 69th Assembly District, is considering a job in Sacramento, so she might end up there after all.  I am told that she will resign from the City Council if she gets this unknown job.
Martinez is actively involved in SCAG, the Southern California Association of Governments, and NALEO, the National Association of Latino Elected Officials.  It is as such feasible that she might be leaving our city for a job in the state capitol.
This would be a good time for Martinez to leave us as her popularity in town is at an all time low.  Folks know that she led the charge against former City Manager Paul Walters and that she allegedly blamed him for the arrest of her half-brother, who violated parole, back when Martinez unwisely took on Mayor Miguel Pulido.  That Martinez, who has publicly admitted to being a former drug dealer, would oust a man who served us well for 42 years, as both our Police Chief and eventually our City Manager, just didn't go down right at all.
If this is true, and I hope it is, I would urge you my readers to encourage Martinez to leave town, ASAP.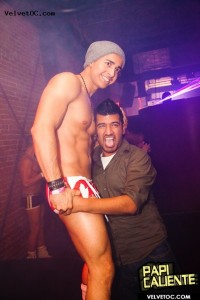 Santa Ana's first homosexual Council Member?
If she does leave the Council, the rest of the Council members will appoint her replacement.  And you have to wonder if they will appoint a homosexual activist to represent Ward 2, which includes Downtown Santa Ana and the Artists Village.  If so they better pick a Latino homosexual, if they hope to hang on to the seat when it comes open again in November of 2014.  And no, appointing a Filipino won't cut it with Santa Ana's voters.  Nor do I see the Council appointing Martinez' Planning Commissioner, Patrick D.Yrarrazaval-Correa, to her seat.  He has his hands full as a Principal of a troubled public school.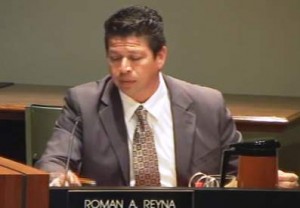 Councilman Reyna is now another government worker
New Council Member Roman Reyna's official city bio says he is now a "Case Manager," at the County of Orange, Department of Education.  Who knew you could work in the Department of Education with only a high school diploma?
Sources are telling me that Reyna was allegedly fired from his last job at the YMCA.  If true did he admit this to his new employer?  And why was he fired?
Reyna previously worked at the Santa Ana Boys and Girls Club and before that he worked in the Santa Ana Parks and Recreation Department.  I am not sure how all of that qualifies him to do his current job.  Could it be that Reyna, a former SAUSD Trustee, pulled strings with the new head of the O.C. Department of Education, Al Mijares, who of course used to the be the SAUSD Superintendent?
The worst part of this is that now our Council has several government workers.  Mayor Pro Tem Sal Tinajero is a public school teacher in Fullerton and New Council Member Angelica Amezcua is a Santa Ana public school teacher.  All of these government workers now have dual pensions and will be double dipping in their retirement, at public expense.
The rest of the City Council includes a realtor, David Benavides, an engineer/consultant, Pulido, and a lawyer, Vince Sarmiento.
It is by the way worth noting that the SAUSD now apparently has a $16 million dollar deficit, and the City of Santa Ana owes over $55 million to the State of California.  Reyna appears to have anything but a golden touch!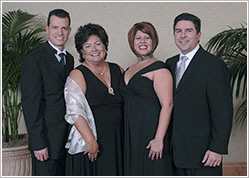 Old School Council Members on the Town!
Drunk Council Members?
This Sunday is St. Patrick's Day and Chapter One: the modern local, is having a big party to celebrate their second anniversary.  It is a fact that Council Members Martinez and Benavides like to hang out there.  Will they get drunk while reveling in green?  Be sure to stop by there and get their picture while they are four sails to the wind!
Another Easter Cruising Crackdown?
Well, Easter is coming up and that means cruising, in Santa Ana.  Will our supposedly progressive All-Latino City Council allow the police department to overreact again and close a bunch of streets around Bristol?  That has been a terrible inconvenience to local residents for years.  Why not charge the cruisers an entrance fee and let residents watch the show from the grassy lawns alongside Bristol St.?  The City of Long Beach makes a mint with their Long Beach Grand Prix.  Why can't we make money off Easter Cruising?