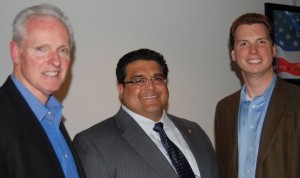 The chisme has it that Orange County Clerk-Recorder Tom Daly is going to run for the 69th Assembly District, a seat currently held by Assemblyman Jose Solorio, who if memory serves correct employs Daly's wife.
Daly is the former Mayor of Anaheim.  I am told that "business interests" want him to run as they don't like OC Labor Political Director Julio Perez, who like Daly hails from Anaheim.
Where does that leave Santa Ana Councilwoman Michele Martinez?  She announced she was running this week.
Martinez is definitely staying in the race.  She related to me today that she loves Santa Ana and wants to make sure that Santa Ana's voice is heard.  She has a point.  Solorio was a former Santa Ana Council Member and Santa Ana forms the majority of the 69th A.D.  Even the new map of the district that is being considered by the California Redistricting Commission shows that Santa Ana is in charge in the 69th.
Could Daly end up being the new Umberg?  You may recall that Umberg lost by almost six thousand votes, to Lou Correa, back in 2006, when they both ran for the 34th State Senate District, according to Smart Voter.
Umberg lost again in 2007, when he ran for the Supervisorial seat that Correa vacated.  He lost again, badly, coming in third behind Janet Nguyen and Trung Nguyen.
And just like that, Umberg was done.  Could Daly be the next great white hope to crash and burn in central Orange County?
When Daly ran for the 4th Supervisorial District, last year, he has virtually no Latino support, according to the Orange Juice blog.  He eventually got out of that race.
Daly is known for his antipathy towards Latinos and the working poor.  Click here to read all about his checkered career.
I also heard recently that Daly is being investigated by the O.C. Supervisors for wasting millions of dollars that were in a fund that was supposed to be used to upgrade the technology at the Clerk-Recorder's office.  That is on top of the millions he blew on a vacant, dilapidated building that he was supposed to move the O.C. Archives to, and the money he wasted opening an unneeded office in Fullerton.
I think Daly and Perez will split the Latino vote and the male vote.  Martinez can win – she will have most of the female votes and will own Santa Ana.  Will it be easy?  No, but Martinez is a hard worker.  I think she will outwork Daly and Perez.
And don't forget that the OC GOP will no doubt be running a white mail candidate as well.  In an open primary that is a three way split of the male vote!  Martinez will no doubt benefit from that.