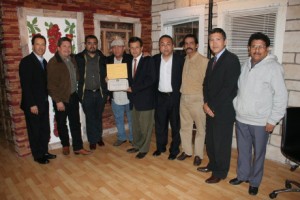 Pictured: The Board of the Santa Ana Soccer and Business Association, with Miguel Pulido and Vince Sarmiento
The Voice of OC is reporting that we were right – the Chivas USA soccer team is NOT moving to Santa Ana after all.  Will Santa Ana's soccer-hating Usual Suspects now apologize for creating mass hysteria about the proposed move – which was really never more than a pipe dream?
The Voice of OC's Adam Elmahrek interviewed Edgar Vasquez of the Santa Ana Soccer and Business Association.  We first reported about Vasquez and his new organization way back in January of this year, when they met with Santa Ana Mayor Miguel Pulido.
According to Vasquez, it was his organization that was trying to convince the Chivas USA to move to Santa Ana.  He approached Pulido but talks with the Chivas USA went nowhere and Vasquez now believes that the owner of the Chivas USA was just using Santa Ana, likely to negotiate better lease terms with the Home Depot Center in Carson, where the Chivas USA play their home games.
When news of the talks leaked to the general public, Santa Ana's soccer-hating Usual Suspects went completely nuts.  Led by former Councilman Tom Lutz they held meetings, started a lame blog and blitzed Santa Ana's neighborhood associations making wild accusations about how the Chivas USA soccer stadium, that was supposed to be built at the Willowick Golf Course, would result in noise and trash and the end of "our way of life," whatever that means.
Will Lutz and his associates now apologize for their ridiculous maniacal ways?  Somehow I doubt it.
The timing of all this is interesting as the Mexican national soccer team, known as "El Tri," is playing the U.S. soccer team today in a friendly match in Philadelphia.  Click here for an ESPN preview of the match.  The game, which is in the evening, ought to be a huge deal for Santa Ana's Mexican restaurants and bars.  Many of them will no doubt be showing the match on their TVs.  Mexico's team beat the U.S. in a recent Gold Cup final, leading Usual Suspects all over the country to lose their minds as they objected to Mexicans in the U.S. celebrating the victory.