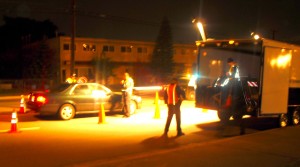 The impounding of cars driven by immigrants, by the Santa Ana Police Department (SAPD), is on the agenda for the Santa Ana City Council's Public Safety Committee meeting scheduled for today, August 10, at 6 pm.
SAPD Deputy Chief Carlos Rojas will be making a presentation about the car impounding to the Committee, which is comprised of Santa Ana Council Members David Benavides and Sal Tinajero and Mayor Pro Tem Claudia Alvarez.
The car impounding has taken place for years at the SAPD's DUI checkpoints.  Other cities throughout California allow family members of the immigrants to pick up their cars.  When the cars are impounded the families, which are often quite poor, end up paying a lot of money to get them back.  Immigrants who are undocumented cannot get drivers licenses in California, which is part of the problem.
Members of the public will be allowed to speak for three minutes on this subject.
The OC May Day Coalition has posted the meeting on Facebook.  According to these activists the Santa Ana City Council has "proclaimed a desire to opt out of the punitive and predatory state law."
The meeting will be held at the SAPD's Community Room, located at 60 Civic Center Plaza.  Click here to read the meeting agenda.