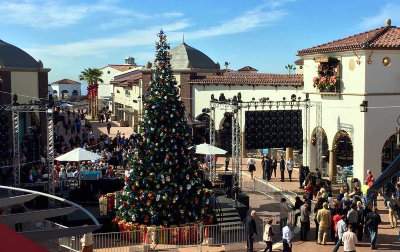 OUTLETS AT SAN CLEMENTE TO HOST FIRST ANNUAL SHOPPING EXTRAVAGANZA ON DECEMBER 5 TO BENEFIT EIGHTEEN LOCAL NONPROFIT ORGANIZATIONS
Consumers Can Enjoy Guilt-Free Shopping and Experience Exclusive Discounts at the First and Only Coastal Outlet Shopping Destination in OC
SAN CLEMENTE, Calif. (November 19, 2015) — Outlets at San Clemente is proud to announce its inaugural Shopping Extravaganza charity fundraiser on Saturday, December 5, from 10 a.m. to 7 p.m. to benefit 18 local nonprofits. Consumers can receive exclusive discounts on top of daily savings at more than 30 stores while Outlets at San Clemente donates $25 for every $35 ticket purchased to a local nonprofit organization of the shopper's choice.
Participating organizations include: Costa Mesa-based Girls Incorporated of Orange County; Dana Point-based Dana Point Symphony; Duarte-based City of Hope; Irvine-based Juvenile Diabetes Research Foundation and Tilly's Life Center; Laguna Beach-based Pacific Marine Mammal Center; Laguna Hills-based Western Youth Services; San Clemente-based organizations Boys & Girls Club of South Coast Area, Family Assistance Ministries, Kids Around the World, and Sunrise Rotary Club; San Juan Capistrano-based Assistance League of Capistrano Valley and Mission San Juan Capistrano; Santa Ana-based Big Brothers Big Sisters of Orange County, Court Appointed Special Advocates (CASA) of Orange County, Goodwill of Orange County, and the Wellness and Prevention Foundation; and Tustin-based ALS Association Orange County Chapter.
In addition to exclusive discounts at more than 30 stores, Shopping Extravaganza ticket holders will enjoy:
Private catered lunch
Wine tasting provided by Napa-based Wine Militia
Craft beer tasting from San Clemente's Left Coast Brewing Co.
Live entertainment
More than $50,000 in prizes, including Laguna Cliffs Marriott Resort and Spa room packages, and thousands of gift cards to Outlets at San Clemente's lineup of stores
"We're beyond excited to host Outlets at San Clemente's first annual Shopping Extravaganza event to support worthwhile nonprofits dedicated to building a better community and future for those at risk," said Nicky See, marketing director, Outlets at San Clemente. "Our goal is for the annual Shopping Extravaganza events to become a community favorite as our sister properties have seen. Giving back to charities while receiving discounts on holiday shopping is an opportunity any philanthropic consumer can appreciate, and we look forward to offering shoppers this fun way to give back."
Steve Craig, managing partner of Craig Realty Group, began applying the Shopping Extravaganza events to Craig Realty Group-owned and operated centers in 1998. Since inception of the original concept, there have more than 80 Shopping Extravaganza events held at centers across the country, raising more than $3 million for local non-profit organizations.
Outlets at San Clemente Shopping Extravaganza tickets are on sale now at shoposc.com/tickets. For more information, follow updates at outletsatsanclemente.com.
The lifestyle center is situated between Avenida Vista Hermosa and Avenida Pico along the I-5 freeway at 101 West Avenida Vista Hermosa in San Clemente.
About Craig Realty Group
Craig Realty Group is a shopping center development and management firm founded by Steven L. Craig and is based in Newport Beach, California. A leader in the development and management of high income-producing, upscale factory outlet centers, Craig Realty Group owns, operates and manages nearly 5.2 million square feet of existing retail development in 7 states: Outlets at Anthem in Phoenix, Arizona; Outlets at Barstow in Barstow, California; Cabazon Outlets located near Palm Springs, California; Citadel Outlets in Los Angeles, California; Outlets at Conroe located near Houston, Texas; Outlets at Castle Rock located south of Denver, Colorado; Outlets at the Dells, Baraboo, Wisconsin; Outlets at Hillsboro, Hillsboro, Texas; Outlets at Loveland located north of Denver, Colorado; Outlets at Silverthorne located west of Denver, Colorado; Outlets at Vicksburg in Vicksburg, Mississippi; and East Hills Mall in St. Joseph, Missouri. In November 2012, Craig Realty Group grand opened Outlets at Traverse Mountain, located in Lehi, Utah, just 30 minutes from Salt Lake City. The long-awaited opening of Outlets at San Clemente, overlooking the Pacific Ocean just off the I-5 in beautiful San Clemente, California, will be held November 12, 2015. Projects in development include Chicagoland Outlets at Country Club Hills, Illinois; Outlets at Kapolei Commons, Oahu, Hawaii; Outlets at Richmond, Virginia; Outlets at Cleveland, Ohio and Outlets at Lacey, Washington. Craig Realty Group founder Steve Craig previously developed Desert Hills Premium Outlets, Carlsbad Company Stores and Woodburn Company Stores, three of the most successful manufacturer outlet centers, and was instrumental in developing Camarillo Premium Outlets. For more information, visit www.craigrealtygroup.com.
###