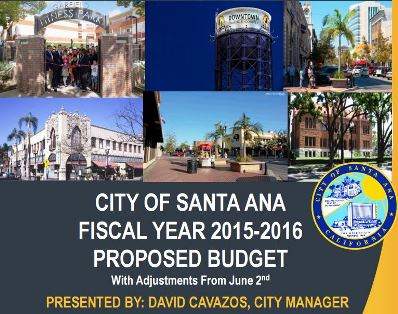 City of Santa Ana
Community Alert: Community Budget Outreach Meeting / Presentación Comunitaria sobre el Presupuesto Municipal
The community is invited to participate in the upcoming Community Budget Outreach Meeting on October 22, 2015 at 6:00 p.m. in the City Council Chambers (20 Civic Center Plaza). This meeting is being held in accordance with the Sunshine Ordinance which implements additional measures aimed at making city government more transparent.
Topics to be covered include:
Overview of the City's budget structure and process
Preliminary Fiscal Year 2014-15 Year-End Results
Fiscal Year 2015-16 Budget
Strategic Plan Update
Capital Improvement Program
You may also find information on the City's budget at www.santa-ana.org/finance/budget.
A map of the Civic Center is available at www.santa-ana.org/CivicCenterMap. Parking entrance is on Parton Street off Santa Ana Blvd.
For more information, please contact Finance and Management Services at (714) 647-5420.
+++++++++++++++++++++++++++++++++++++++++++++++++++++
Presentación Comunitaria sobre el Presupuesto Municipal
Se anima al público participar en una junta de enlace comunitario sobre el Presupuesto Municipal que se llevará a cabo el 22 de octubre de 2015 en la Cámara del Ayuntamiento (22 Civic Center Plaza). Esta junta comunitaria es parte de los requerimientos del "Sunshine Ordinance" cual es una ordenanza que implementa medidas adicionales para aumentar la transparencia de nuestros servicios y decisiones con el público.
Temas durante la junta incluyen:
• Informes sobre la estructura y el proceso del presupuesto municipal
• Resultados preliminares del fin de año fiscal 2014-2015
• Progreso del Plan Estratégico
• Repaso del Programa de Mejoramiento Capital
También puede encontrar información sobre el Presupuesto Municipal en www.Santa-Ana.org/Finance/Budget.
Se ofrecerá traducción en español durante la junta. Un mapa del Centro Cívico está disponible en www.Santa-Ana.org/Documents/CivicCenterMap. Estacionamiento disponible entrando Parton Street desde la Santa Ana Blvd.
Para más información, comuníquese con el Departamento de Finanzas al (714) 647-5420.
For full details, view this message on the web.