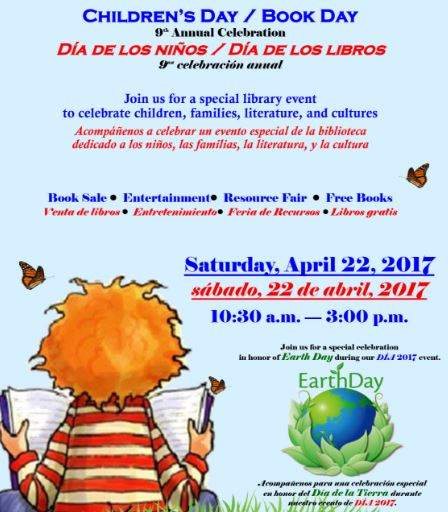 City of Santa Ana
Community: Santa Ana Public Library Presents the 9th Annual Children's Day/Book Day | 9ª Día de los Niños / Día de los Libros
SANTA ANA, CA – On April 22, 2017, the Santa Ana Public Library, winner of the 2016 National Medal for Museum and Library Services, will celebrate Día de los niños/Día de los libros (Children's Day/Book Day). The celebration, also known as Día, will take place at the Main Library from 10:30 a.m. to 3:00 p.m. The event will showcase a variety of fun-filled activities and services for children and their families.
Children's Day began in 1925 and was designated as a day to bring attention to the importance and well-being of children. In 1996, nationally acclaimed children's book author Pat Mora proposed linking the celebration of childhood and children with literacy, thus the creation of Día. Día annually celebrates children, families, and literacy for children of all linguistic and cultural backgrounds.
The event is free and everyone is invited. The Santa Ana Public Library will showcase a variety of free activities such as train rides, rock climbing and a Friends of the Library Children's and Young Adult Book Sale. We will also have a STEAM Extravaganza featuring the making of slime, Ozobots, and a LEGO® station. In addition, there will be storytimes, a resource fair, a Mother Earth's Playground for the children, as well as a variety of performances by local children from the community. For the first time, we will introduce a Virtual Reality (VR) station. Children and their families will have the opportunity to experience new worlds and realities though the HTC Vive.
In honor of Earth Day, with the help of community volunteers, Parks and Recreation, the expert assistance of the City's Water Resource Division and Public Works Department, we will complete construction of our Arid Garden and Underground Aquifer Library exhibit, also known as the AGUA Demonstration Garden. Native plants and a tree are scheduled to be planted. Signage demonstrating the Hydrologic Cycle will be displayed to educate the public.
For more information on Santa Ana Public Library's Día event, please call Youth Services at (714) 647-5258 or visit http://www.santa-ana.org/library/youthservices/childrensday.asp.
THE SANTA ANA PUBLIC LIBRARY IS LOCATED AT:
26 CIVIC CENTER PLAZA (corner of Civic Center and Ross)
———————————————————–
LA BIBLIOTECA PÚBLICA DE SANTA ANA CELEBRA
DÍA DE LOS NIÑOS / DÍA DE LOS LIBROS
SANTA ANA, CA – El 22 de abril de 2017, la Biblioteca Pública de Santa Ana, ganadora de la Medalla Nacional de Museos y Servicios Bibliotecarios del 2016, celebrara el Día de los Niños/Día de los Libros (Children's Day/Book Day). La celebración, también conocida como Día, se llevará a cabo en la Biblioteca Central en Santa Ana empezando a las 10:30 a.m. hasta las 3:00 p.m. El evento ofrecerá una gran variedad de actividades divertidas e informativas y servicios gratuitos para niños y sus familias.
Día del Niño se inició en 1925 para resaltar la importancia y riqueza de nuestros niños. En 1996, la nacionalmente aclamada autora, Pat Mora, propuso ampliar aún más esta celebración. Ella unió la celebración de la niñez con la alfabetización juvenil y creó el Día de los niños/Día de los libros. Hoy, Día se celebra anualmente para fomentar la alfabetización de todos los niños y sus familias y festejar la riqueza de todas las culturas.
El evento es gratis y todos están invitados. La Biblioteca Pública de Santa Ana ofrecerá una gran variedad de actividades gratuitas como paseos de tren para niños, un muro de escalada, y una venta de libros auspiciada por Los Amigos de la Biblioteca de Santa Ana. Tendremos un Festival de STEAM donde los niños podrán aprender a hacer slime (baba), Ozobots, y una estación de LEGO®. También tendremos cuentos para familias, una feria de recursos, actividades para los niños en la area de la Madre Tierra, y una variedad de espectáculos realizados por los niños de nuestra comunidad. Por primera vez tendremos una estación de realidad virtual donde los niños y sus familias tendrán la oportunidad de experimentar nuevos mundos y realidades a través del HTC Vive.
En honor al Día de la Tierra, con la ayuda de voluntarios de nuestra comunidad, la Agencia de Parques, Recreación y Servicios Comunitarios, y contando con la asistencia experta de la División de Recursos Hídricos y la Agencia de Obras Públicas, completaremos la construcción de nuestra exhibición Arid Garden and Underground Aquifer, también conocida como el Jardín de Demostración AGUA. Se ha programado la siembra de plantas nativas y un árbol en esta área. Además, se colocarán letreros educativos mostrando el Ciclo Hidrológico con el propósito de educar al público.
Para más información sobre Día en la Biblioteca Pública de Santa Ana, por favor llame al Departamento de Servicios Juveniles al (714) 647-5258 o visite
http://www.santa-ana.org/library/youthservices/childrensday.asp
LA BIBLIOTECA PÚBLICA DE SANTA ANA ESTA UBICADA EN:
26 CIVIC CENTER PLAZA (esquina de Civic Center y Ross)