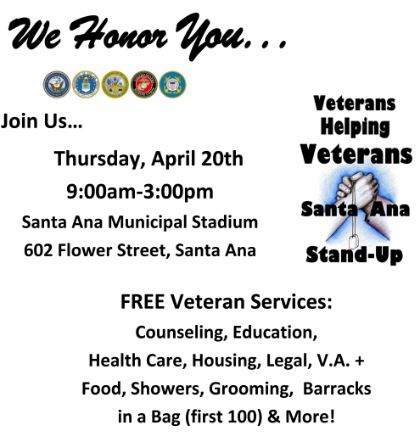 City of Santa Ana
Community: Event: Stand UP for Veterans – Veterans Helping Veterans
SANTA ANA – OneOC, in collaboration with the City of Santa Ana, the County of Orange, and various veterans organizations, will be hosting "Stand UP for Veterans", an event that offers free services to veterans, at the Santa Ana Stadium on Thursday, April 20, 2017, from 9:00 am to 3:00 pm.
The "Stand UP for Veterans" program, originally inspired by the military term "Stand Down", provides an opportunity for veterans to achieve a brief respite from the streets and immediately access needed services. Veterans will assemble in a base camp model that will include showers, meals, clothing, hygiene care kits, medical and legal advice, and veteran benefit information, employment services, in a safe and supportive environment including veteran peer navigators.
"We want to support our veterans who have given of themselves to protect the freedoms and the liberties we all enjoy," said Councilmember Juan Villegas. "This free event will offer veterans a wide spectrum of basic services that will support our veterans now and in the future," he added.
Today more than 160 organizations across the country partner with local businesses, government agencies, tribal governments, community, and faith-based service providers to hold events in local communities for homeless veterans and their families. They are collaborative events, coordinated between local VA Medical Centers, other government agencies and community-based homeless service providers.
For more information on the event, please contact John Hacker at jhacker@oneoc.org or (714) 953-5757, extension 142.
———————————————
SANTA ANA – OneOC, en colaboración con la Ciudad de Santa Ana, el Condado de Orange, y varios organizaciones que sirven a los veteranos, presentarán "Stand UP for Veterans", un evento que ofrece servicios gratuitos , en el Santa Ana Stadium el próximo jueves, 20 de abril, 2017, de las 9:00am a las 3:00pm.
El programa "Stand UP for Veterans" (originalmente inspirado en el término militar "Stand Down"), provee una oportunidad para lograr un breve descanso de las calles y acceder de inmediato a los servicios necesarios. Los veteranos se reunirán en un modelo de campamento base que incluirá duchas, comidas, ropa, botiquín de cuidado de la higiene, asesoría médica y legal e información sobre beneficios para veteranos, servicios de empleo, en un ambiente seguro y de apoyo, lo que incluye veteranos navegadores.
"Queremos apoyar a nuestros veteranos que se han dado a sí mismos para proteger las libertades que todos nosotros disfrutamos", dijo el Concejal Juan Villegas. "Este evento gratuito ofrecerá a los veteranos una variedad de servicios básicos que apoyarán a nuestros veteranos ahora y en el futuro", agregó.
Hoy más de 160 organizaciones de todo el país se asocian con empresas locales, agencias gubernamentales, gobiernos tribales, comunidades, y proveedores de servicios basados en la fe para llevar a cabo eventos en comunidades locales para veteranos sin hogar y sus familias. Son eventos colaborativos, coordinados entre los centros médicos locales del VA, otras agencias gubernamentales y los proveedores comunitarios de servicios para personas sin hogar.
Para más información, póngase en contacto con John Hacker en jhacker@oneoc.org o por teléfeno al (714) 953-5757, extención 142.