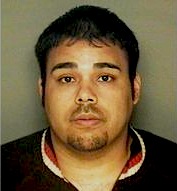 A counselor for a Fullerton children's home was convicted this week of molesting three boys in his office while they used his phone to call their families living in other countries. Victor Salazar, 30, Santa Ana, was found guilty by a jury of four felony counts of lewd acts on a child between the ages of 14 and 15 and two misdemeanor counts of sexual battery. He faces a maximum sentence of seven years and eight months in state prison and lifetime sex offender registration, according to a press release from the Orange County District Attorney.
Between May 25, 2007, and Feb. 5, 2008, Salazar molested three boys between the ages of 15 and 16 and from South or Central America. While the boys were on the phone in his office, Salazar put his hands down their pants and fondled their penises, according to the OC Weekly.
The victims, some of whom lived at Florence Crittenton Home at different times, reported that they did not immediately come forward about the assault because the defendant was in a position of authority and they feared they could be deported or lose the privilege to call their families if they complained.
The sexual assaults were discovered in February 2008 after one of the 15-year-old victims reported that he had been molested by Salazar.
Salazar's lifetime sex offender registration will bar him from entering County recreational areas and City parks that have passed the Sex Offender Ordinance. Visit www.orangecountyda.com to read the prior press releases on the County's Sex Offender Ordinance as well as the 11 other cities that have enacted the Child Safety Zone Ordinance.
While the City of Santa Ana has not passed such an ordinance, their existing code does ban such predators from city parks.  Here is the code in question:
ARTICLE XII.
PROXIMITY RESTRICTIONS FOR REGISTERED SEX OFFENDERS TO CHILDREN'S FACILITIES
Sec. 10-700. Purpose.
Sex offenders pose a clear threat to the children residing in, or visiting our community. Because convicted sex offenders are more likely than any other type offender to reoffend for another sexual assault, the city council desires to impose safety precautions in furtherance of the goal of protecting our children. The purpose of this regulation is to reduce the potential risk of harm to children of our community by impacting the ability for sex offenders to be in contact with unsuspecting children in locations that are primarily designed for use by, or are primarily used by children, namely, the grounds of a school, a center or facility that provides day care or children's services, and a park. The city desires to add location restrictions to such offenders where the state law is silent.
(Ord. No. NS-2712, § 2, 5-15-06)
Sec. 10-701. Definitions.
The following words, terms, and phrases, when used in this chapter, shall have the meanings ascribed to them in this section, except where the context clearly indicates a different meaning:
Child or children means any person under the age of eighteen (18) years of age.
Children's facility means any school, day care center, or park (excluding Sasscer Park), as defined in this section, the Discovery Science Center located at 2500 N. Main Street, the Bowers Kidseum located at the corner of 18th Street and Main Street, the McFadden Learning Center located at 2627 W. McFadden, and the Newhope Branch Library located at 122 N. Newhope Street.
Day care center means any child day care facility other than a family day care home, and includes infant centers, preschools, extended-day care facilities and school-age child care centers, as defined in § 1596.76 of the California Health and Safety Code and licensed pursuant to the provisions of the California Child Day Care Facilities Act (Health and Safety Code §§ 1596.70 et seq.).
Loitering means to delay or linger within three hundred (300) feet of a children's facility and for the purpose of committing a crime as opportunity may be discovered.
Park means any public park or recreation or playground area or building or facility thereon within the city, owned and maintained by the city as a public park or recreation or playground area.
School as used in this article shall mean any institution of learning for minors, whether public or private, offering instruction in those courses of study required by the state Education Code and maintained pursuant to standards set by the state board of education. This definition includes a nursery school, kindergarten, elementary school, middle or junior high school, senior high school, or any special institution of education, but it does not include a vocational or professional institution of higher education, including a community or junior college, college, or university.
Sex offender means a person who has been required to register with a governmental entity as a sex offender when the underlying offense was a crime involving a child.
(Ord. No. NS-2712, § 2, 5-15-06)
Sec. 10-702. Prohibitions.
A sex offender is prohibited from being on or within three hundred (300) feet of a children's facility:
(1) While there for the apparent purpose of observing a child or children;
(2) While loitering, or
(3) If the sex offender returns at any time after having been notified to leave by the owner or any authorized official of such children's facility.
Three hundred (300) feet shall be measured from the property lines of the parcel so zoned or used of each children's facility without regard to intervening structures.
(Ord. No. NS-2712, § 2, 5-15-06)