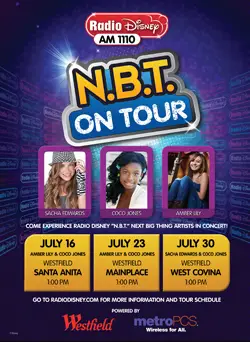 Radio Disney AM 1110 wants you to experience the "N.B.T" Next Big Thing artists in concert!
Radio Disney AM 1110 Los Angeles, invites families to a free performance by "N.B.T." (Next Big Thing) artists Coco Jones & Amber Lily at Westfield MainPlace Mall, on July 23 at 1 pm.
Both artists were featured on Radio Disney's "N.B.T.," a daily multiplatform programming feature that puts the spotlight on young recording artists & provides them with national broadcast & online exposure.
Join the Rockin' Road Crew for your chance to dance, play games, win prizes, and rock out to amazing live music and entertainment!
It's all powered by Westfield and Metro PCS – wireless for all.