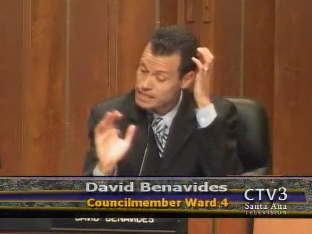 Santa Ana Mayor Miguel Pulido is currently leading his closes challenger, Santa Ana Council Member David Benavides, by over 12,000 votes. Pulido has 27,068 votes, or 48.2% of the ballots versus 14,982 votes, or 26.7% of the ballots for Benavides.  There were four other mayoral candidates this year, including George Collins, Roy Alvarado, Lupe Moreno and Miguel Angel Briseno. 
Pulido beat Alfredo "Al" Amezcua two years ago, in 2010, by just under ten thousand votes. Pulido got 21,588 votes, or 49.5% of the ballots, in 2010, versus 11,689 votes, or 26.8% of the ballots, for Amezcua, according to Smart Voter. There were three other mayoral candidates in 2010 – Alvarado, Collins and Charles Hart.
There was quite a stink raised this year about the supposed "Santa Ana Spring." But in the end the bogus revolution saw several of its candidates lose.  The biggest shocker was the loss by Santa Ana Planning Commissioner Eric Alderete, in Ward 3.  Alderete was defeated badly by Angelica Amezcua, a local school teacher who did not spend any money and barely campaigned.  I am pretty sure that Alderete would have prevailed had he sided with Pulido but instead he went with Benavides, Amezcua and SAUSD Trustee John Palacio, and he was doomed.
Benavides cabal member Santa Ana Council Member Vince Sarmiento barely beat out his own opponent, Estela Amezcua, the sister of Alderete's opponent.  Sarmiento spend over $70K while Amezcua spent nothing.  This poor showing by Sarmiento will dash any thoughts he had of running for some other office in two years. 
SAUSD candidates Valerie Amezcua and Myriam Tinajero were also part of the Santa Ana Spring and they lost too.  Amezcua, the daughter of Al Amezcua, got more votes but still lost as she was edged out by incumbent Jose A. Hernandez, who is a Pulido ally.  The top vote getter in this race was Republican Ceci Iglesias and she was followed by another Republican, Rob Richardson. 
It should be noted that Pulido ally Claudia Alvarez also won in her race for the Rancho Santiago Community College Board.  She beat out another Benavides ally – Mark McLoughlin.
The lesson learned this year?  If you stand against Pulido good luck to you – but you will likely lose.