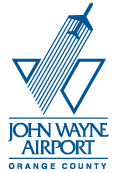 FOR IMMEDIATE RELEASE: November 16, 2012
Contact: Jenny Wedge, Office: (949) 252-5182, jwedge@ocair.com
JOHN WAYNE AIRPORT OFFERS TRAVEL TIPS FOR THE THANKSGIVING HOLIDAY
SANTA ANA, Calif. – In anticipation of one of the most heavily traveled holiday periods, John Wayne Airport (JWA) offers travel tips to help passengers prepare for a safe and enjoyable holiday. Passengers traveling through JWA between Friday, November 16 and Monday, November 26 will experience higher-than-normal passenger traffic due to the Thanksgiving holiday. The busiest travel days are expected to be Wednesday, November 21 and Sunday, November 25.
Plan Ahead
Passengers and visitors are encouraged to give themselves 1-1/2 to 2 hours to find parking, check their luggage and go through the security checkpoint to ensure that they are at the gate in time for their flight.
Check www.ocair.com for the most up-to-date construction alerts on the Airport's homepage along with other helpful travel tips.
For visitors picking up passengers, visit our online flight information page to track the status of the flights into Orange County.
Curbside Valet Parking for $30 per day, located on the Upper (departure) Level, between Terminals A and B or in front of Terminal C.
Parking Structures A1 and A2 are located adjacent to and directly across from Terminal A; Parking Structures B2 and C are closest to Terminals B and C. Rates are $20 per day and $2 per hour with the first 15 minutes being free for those dropping off and picking up passengers.
Off-site Main Street Parking Lot located at 1512 Main St., Irvine for $14 per day with free shuttle service to/from the Terminal every 15 minutes.
Know Before You Go from TSA and CBP
Review Transportation Security Administration (TSA) Travel Tips to become familiar with what items are prohibited, including the 3-1-1 rule for liquids in carry-ons. Visit www.tsa.gov for more information.
International travelers should check the U.S. Customs & Border Protection (CBP) website to ensure they have appropriate documentation for traveling to and from the United States. Visit http://cbp.gov/xp/cgov/travel/vacation/ to learn more. Note: Travelers to and from Canada will clear Customs in Canada before returning to the United States.
# # #
John Wayne Airport (SNA) is owned by the County of Orange and is operated as a self-supporting enterprise that receives no general fund tax revenue. The Airport serves approximately nine million passengers annually and reaches more than 20 nonstop destinations in the United States, Mexico and Canada. More information can be found at www.ocair.com or at facebook.com/johnwayneairport or on twitter.com @johnwayneair.