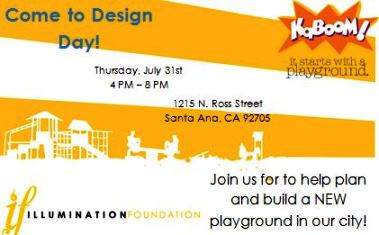 KaBoom! and The Illumination Foundation are co-hosting an event from 4-8 pm at Willard Park this Thursday, July 31, 2014. Willard Park community (parents and kids alike) are invited to drop by and give their input on a new park they are planning.
The goal of this event is to give local residents a voice in the design and to be able to express their community's needs.
Willard Park is located at 1215 N. Ross St., in Santa Ana.