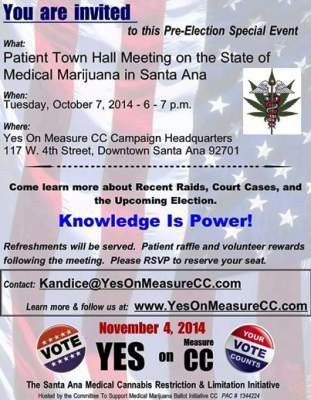 A Patient Town Hall Meeting on the State of Medical Marijuana in Santa Ana has been set for Tuesday, Oct. 7, 2014, from 6 to 7 pm at the headquarters of the Yes on Measure CC ballot initiative campaign.
The discussion will include information about the recent raids on medical marijuana dispensaries by the Santa Ana Police Department, court cases and the upcoming election.
Refreshments will be served.  A patient raffle raffle will follow the meeting and will include volunteer rewards.
Please RSVP to reserve your seat by contacting Kandice@yesonmeasurecc.com.
Click here to learn more about the Santa Ana Medical Cannabis Restriction and Limitation Initiative.