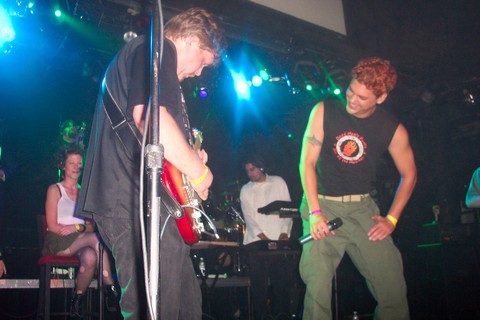 Did you ever get to watch Oingo Boingo in concert?  I didn't and in fact none of us ever will.
When asked during a 2007 phone-in interview on XETRA-FM if he ever had any notions of performing in an Oingo Boingo reunion, Elfman immediately rejected the idea and stated that in the last few years with the band he had begun to develop significant and irreversible hearing damage as a result of his continuous exposure to the high noise levels involved in performing in a rock band. He went on to say that he believes his hearing damage is partially due to a genetic predisposition to hearing loss, and that he will never return to the stage for fear of worsening not only his condition but also his band mates'.
You see?  Danny Elfman, the famous lead singer of Oingo Boingo, cannot tour anymore due to his hearing problems.
The good news is that the tribute band "Dead Man's Party" is coming to Santa Ana tonight, Feb. 12, for their annual Valentine's Day show, at the Galaxy Concert Theatre.  They will be playing all of Oingo Boing's greatest hits.
I saw Dead Man's Party play last year, at the Galaxy.  It was an awesome show!  They are very good.
Here are a few excerpts from the Dead Man's Party website:
Halloweens were no longer acceptable since Oingo Boingo called it quits in '95; the holiday would never be the same without them.  Because of this, Dead Man's Party, the Oingo Boingo tribute band began to form in the later part of 2000, beginning the endeavor to re-create the Halloween cheer that so many other Southern Californians had come to know as Oingo Boingo's "Dead Man's Party."

The band started out with Rob on vocals, Axel Clark on drums and Mike Ryon on lead guitar.  Rob was a huge Oingo Boingo fan, Axel and Mike were both very familiar with Oingo Boingo and thought the project sounded like fun, and the three had worked together before; both in the studio and in another band.   Things seemed to click pretty well, so slowly the rest of the band was recruited.  Everything continued to go so well that, even before finding a horn section, the band went ahead and booked their first show.  Then things got sticky.

Though Dead Man's Party was originally intended to be primarily a Halloween band, Oingo Boingo fans kept asking when they were playing next.  The guys started booking other shows throughout the year, with a seemingly ever-growing fan base.  After a few band member changes and over five years later, Dead Man's Party finds themselves playing around Southern California about once a month and still loving it.
This should be a great show!
Tickets are available at the box office or by clicking here.  Tickets are only $18.
The Galaxy Concert Theatre is located at 3503 S Harbor Blvd in Santa Ana, CA.  Telephone: (714) 957-0600.