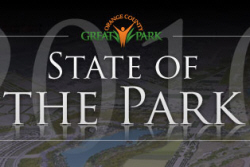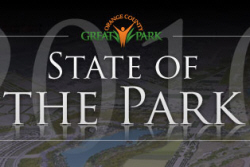 FOR IMMEDIATE RELEASE CONTACT: JENN STARNES
JULY 8, 2010 949-724-6574
Orange County Great Park Announces Opening of Kids Rock

5th Annual State of the Great Park Address Highlights New Features; Plans for Immediate Future Development
IRVINE – Orange County Great Park Board Corporation Chair Larry Agran today announced the opening of the Park's latest attraction, the Kids Rock play area, during his 5th Anniversary State of the Great Park address. Chair Agran spoke of the past year's accomplishments and outlined plans for the future, including the first three lighted, tournament-quality soccer fields in the sports park; artists studios and gallery space; the 14-acre Picnic Meadow; and the 114-acre Great Park Farm. He also discussed the planting of thousands of trees and plans for new developments, such as the O Club and Nature Education Garden.
Kids Rock is the first of what will be many large and small children's playgrounds throughout the Great Park. Phase 1 of Kids Rock, intended to be of special interest to toddlers and young children with its cloud-like shade structures and water misting systems, is opening this weekend at Growing the Park an event marking the 5th anniversary of the Orange County Great Park on Saturday July 10th.
"We will build as much of the Park as we can, as fast as we can," said Agran. "But we will never build more than we can afford. And we will never build more than we can operate and maintain year after year in accordance with the highest standards and best practices."
The Park is under construction now, with plans to expand to more than 200 acres. Those plans were outlined in today's address.
"In keeping with Ken Smith's comprehensive design, our evolving Great Park, anchored by Western Sector Development, includes major commitments to the preservation and restoration of our land-use history: natural wild lands, agriculture, the military history of the 20th century, and of course to what we call our future history we are shaping as we build the Great Park," said Agran.
Please find highlights of Chair Agran's annual report below:
• Last month, the Great Park Corporation Board and the Irvine City Council voted unanimously to officially close out Contract 2 with the Great Park Design Studio. Under this contract, the Great Park Comprehensive Master Design — known as the schematic design — was completed. On time. Under budget. And to award-winning, world-class standards.
• The Comprehensive Design Contract was closed out with $5.4 million in savings – enabling us to shift those design dollars into additional on-the-ground Park development over the next 24 months.
• The Western Sector Development Plan includes Phase 1 of the Sports Park. A South Lawn containing three lighted artificial-turf tournament-quality soccer fields and a North Lawn multi-purpose sports field.
• A great metropolitan park should establish itself as a great venue for world-class performing artists and exhibitions. We're clearly on our way. This past winter, Cirque du Soleil performed at the Great Park, attracting 100,000 patrons to our Festival Grounds. This was followed by other festivals, including the Anatolian Festival celebrating Turkish culture to the delight of some 20,000 visitors.
• Our Farm & Food Lab continues to flourish. The Western Sector Development Plan promises more. The already popular gardens and gardening classes will soon be augmented by community gardens opened to the public. This year we'll be growing additional crops at this outdoor laboratory, including pumpkins just in time for the Great Park Pumpkin Harvest Festival this October.
• Yes, we want to be known as the Great Park — but as Mark Lowry (director of the Orange County Food Bank) has observed, one of the things that makes the Great Park great is that we are a Park with a Heart. Accordingly, our commitment is that much of the food we grow and gather here at the Great Park will be delivered to Second Harvest and other food banks whose mission is our mission: to raise nutritional standards and once and for all end malnutrition in Orange County.
• Next to Kids Rock and the interim Visitors Center is the Walkable Timeline, emphasizing the 1940s and soon the 1950s with the addition of increasingly sophisticated artifacts and educational features of interest.
• Across the Walkable Timeline, conveniently located very close to Kids Rock, will be the Great Park Carousel, which was recently refurbished to reflect the larger Orange County history that is more appropriate for our Great Park. The Great Park Carousel will be installed later this year.
"Magazines, journals, and leading architectural critics have lauded the Park Design for its conceptual genius, for its specific elements, and for its comprehensive yet exquisitely detailed design," said Larry Agran, Chair, Orange County Great Park Board Corporation.
Chair Agran concluded his remarks by saying, "…let us be mindful of our responsibilities as stewards of this historic land that is today yielding to our plans and designs and giving rise to the Great Park. Let us always remember that we old the Great Park in trust not only for the benefit of our own generation but for the beneficial use and enjoyment of all generations to come."
For more information, go to www.ocgp.org.
####