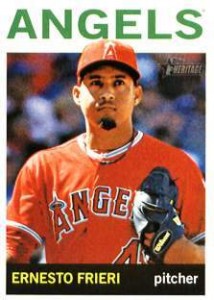 Meet Angels Pitcher Ernesto Frieri at Eco Challenge e-waste Event at the Cube
Discovery Science Center e-waste collection also offers four free general admission* tickets to the Cube
SANTA ANA, Calif. (August 27, 2013) – Exclusive "home run" incentives are available to those who bring e-waste to Discovery Science Center (DSC) on Saturday, September 7, 2013 from 10:00 a.m. to 12:00 p.m. E-waste participants will receive up to four (4) same day general admission* tickets to DSC and have the chance to meet Angels pitcher Ernesto Frieri.
Sponsored by Discovery Science Center, the County of Orange, Goodwill of Orange County, and Angels Baseball, this special collection event invites participants to use their DSC admission* tickets to visit the Eco Challenge exhibit and learn how they can make Orange County a cleaner and greener place to live and play. The exhibit features three hands-on, interactive exhibit areas: Discovery Market, Race to Recycle and Eco Garage. To learn what e-waste will be accepted click here.
Angels closing pitcher,Ernesto Frieri #49, will add excitement to the event. He will autograph one memorabilia item per person.
"This Eco Challenge e-waste event demonstrates how four great organizations can work together on a united mission: Reduce, Reuse, Recycle," states Joe Adams, president of Discovery Science Center. "By challenging our community to 'take the Eco Challenge' and learn about properly disposing of waste, we are investing in the sustainability of landfills while also preparing future generations."
Every year, an estimated 75% of unused electronics sit in storage because residents are unsure how to properly dispose of them. The Eco Challenge e-waste event gives Orange County residents a secure place to bring their working or non-working electronic devices for proper disposal by Goodwill of Orange County E-waste Solutions. Participants also will receive a battery bucket compliments of OC Waste and Recycling.
"The e-waste collection event at Discovery Science Center is exciting because it brings the Eco Challenge alive. This is an opportunity to practice what the Eco Challenge has taught with regards to recycling. It's sure to be a great event," said Orange County Supervisor Janet Nguyen, who represents the First District.
*General admission tickets and Angels player meet and greet opportunity will be on a first come, first serve basis only while supplies last between the hours of 10 am and 12 pm; please arrive early.
About Discovery Science Center
For 25 years, Discovery Science Center (DSC) has been a non-profit organization dedicated to educating young minds, assisting educators to teach science and increas public understanding of science, technology, engineering and math through interactive exhibits and programs. With one of the largest education outreach programs in the county and an unparalleled approach at creating immersive, game-based exhibits, DSC is revolutionizing how educational content is delivered. Throughout the year, guests can take the Eco Challenge and become a green superhero or feel the power of a simulated rocket engine launch. Traveling exhibits and annual events such as Spooky Science and Bubblefest throughout the year ensure that there is always something new to discover. In 2012, DSC was named one of the ten "Most Trusted Brands" in Orange County and in 2013 was awarded the National Medal of Service from the Institute of Museum and Library Services. DSC owns and operates the Taco Bell Discovery Science Center based in Santa Ana, California and will be opening a second facility in Los Angeles in 2014. For more information, call (714) 542-CUBE or visit www.discoverycube.org.
About the County of Orange and OC Waste and Recycling
The mission of the County of Orange is to make Orange County a safe, healthy, and fulfilling place to live, work, and play, today and for generations to come, by providing outstanding, cost‐effective regional public services. OC Waste & Recycling helps fulfill this mission by meeting the County's solid waste disposal needs by providing waste management services, protecting the environment, and promoting recycling in order to ensure a safe and healthy community for current and future generations. OC Waste & Recycling manages one of the nation's premiere solid waste disposal systems, which serve 34 cities and over three million residents. OC Waste & Recycling operates a network of three active landfills and four household hazardous waste collection centers. Visit http://www.OCecochallenge.com for more information.
About Goodwill of Orange County
Now in its 89th year, Goodwill of Orange County is in the business of helping people who are facing barriers to enter the workforce in a meaningful, fulfilling manner. Founded on the belief that every person should have the opportunity to achieve the independence that work provides, Goodwill is most famous for being the conduit where donated goods are sold in America's favorite thrift stores to generate the revenue that provides the services to those who face employment challenges. Goodwill is our country's leader in creating and providing quality training and employment services to empower individuals to be productive and independent. In 2012, Goodwill was named one of Orange County's Most Trusted Brands.
About Angels Baseball
The Los Angeles Angels joined Major League Baseball as an expansion team in 1961 and have since gone on to win eight American League Western Division Championships, host three All-Star games and capture the 2002 World Series Championship. Over its 53-year history, the franchise also boasts two MVP's, two Cy Young winners, two Rookie of the Years, 34 Rawlings Gold Glove winners and 138 All-Stars. Visit the Angels online at www.Angels.com, follow them on Twitter @Angels and like them on Facebook at www.facebook.com/Angels. For media information, visit www.angelspressbox.com.
# # #
Additional Contacts (media):
Julie Chay – County of Orange, OC Waste & Recycling – (714) 834-4059;
julie.chay@ocwr.ocgov.com