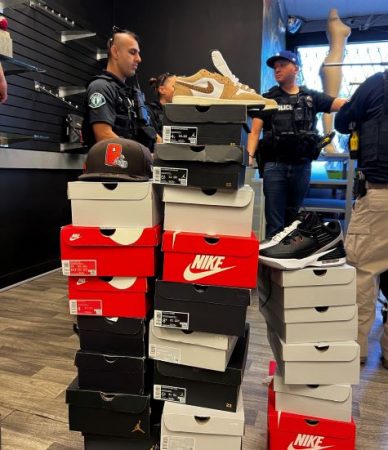 Last Wednesday, the Irvine Police Department arrested four grab-and-run shoplifters who targeted a Nike store. They were responsible for multiple retail theft cases throughout Southern California.
Yesterday, Irvine Detectives located and arrested the man who was purchasing and reselling the stolen items at his clothing store. Irvine police detectives recovered over $6,200 worth of stolen shoes and clothing. The recovered property is being returned to the victim companies.
Harold Carter, 36, of San Bernardino, was arrested and booked at Orange County Jail.
On Thursday, Sep. 28, Irvine police detectives located and arrested an organized retail crime group who had just committed a grab-and-run theft at Nike in Carlsbad with a loss of $3000.
Four suspects were involved, including three related to Nike grab-and-run thefts in Irvine and San Clemente, with over $11,000 in losses. The fourth person was arrested for a warrant.
Arrested for theft and organized retail crime charges:
Kristen Jamie Himbarger, 19, of Los Angeles
China Celeste Morris, 24, of Highland
Female juvenile, 14 years
Arrested on a grand theft warrant:
Anaiya Syrai Cole, 19, of San Pedro
Organized retail theft will not be tolerated in Irvine.