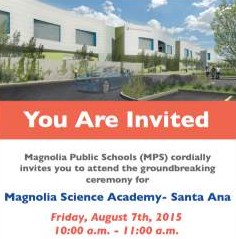 The Magnolia Science Academy, which was chartered by the Orange County Board of Education after it was rejected by the SAUSD School Board, is hosting a groundbreaking ceremony on Friday, August 7, 2015, from 10 a.m. to 11 a.m., at 2840 West 1st Street, in Santa Ana.
Light Refreshments will be served at 9:30 a.m. Parking will be available on-site.
Speakers:
MPS Board Member Remzi Oten (Keynote Speaker)
MPS CEO and Superintendent Dr. Caprice Young
MSA-Santa Ana Principal Laura Betsabe Schlottman
Host – Chief External Officer Alfredo Rubalcava
In Attendance:
U.S. Congresswoman Loretta Sanchez, 46th District of California
Field Representative will be present for Supervisor Andrew Do, 1st District of Orange County
Field Representative Phil Smith will be present for California State Senator Janet Nguyen, 34th Senate District
Board of Trustees President Robert M. Hammond, Orange County Board of Education – District 1
Magnolia has allocated more than $150,000 for common-core ready textbooks with full online curriculum support. They also are moving towards blended education including online tools.  For that new mission they have allocated $40,000 to provide Chromebooks for every student attending their school.  They are currently located at 102 Baker St. E, in Costa Mesa.
Magnolia Science Academy is a chain of publicly-funded charter schools in California run by MERF (Magnolia Education and Research Foundation), which was formerly Dialog Cultural, Scientific and Educational Foundation (often abbreviated as "Dialog Foundation") in Reseda, California. 
In March 2012, a Turkish newspaper ran an article on Huseyin Hurmali (a.k.a. "Joseph" Hurmali) the founding director of the first Magnolia Science Academy who was involved in many subsequent charter school applications, including the failed application for the Pioneer school in Oregon.  The article shows a photo montage of Hurmali along with Fethullah Gulen, and mentions Hurmali's involvement in the Magnolia Science Academy, according to a charter school blog.
Here is more information about this movement courtesy of Wikipedia:
The Gülen movement is a transnational religious and social movement led by Turkish Islamic scholar Fethullah Gülen. He has attracted a large number of supporters in Turkey, Central Asia and increasingly in other parts of the World.  Globally, the Gülen movement is especially active in education. In 2009 Newsweek claimed that movement participants run "schools in which more than 2 million students receive education, many with full scholarships".[25] Estimates of the number of schools and educational institutions vary widely, from about 300 schools in Turkey to over 1,000 schools worldwide.[26][27]
In 2008, the Dutch government investigated the movement's activities in the Netherlands. Ella Vogelaar, the country's minister for housing, communities, and integration, warned that "in general terms, when an organization calls for turning away from society, this is at odds with the objectives of integration." It was, she noted, incumbent upon the government to "keep sharp watch over people and organizations that systematically incite anti-integrative behavior, for this can also be a breeding ground for radicalization." Testifying about one of the schools in the investigation, a former member of the movement called it a "sect with a groupthink outside of which these students cannot [reason]":
"After years living in the boarding school it is psychologically impossible to pull yourself away; you get guilt feelings. Furthermore, it forces the students to live, think and do as the Big Brothers [the abis] instruct them to. Furthermore, through psychological pressure, these students are told which choice of career is the best they can make for the sake of high ideals. . . . Another very bad aspect is that students no longer respect their parents and they do not listen if the parents do not live by the standards imposed by the group; they are psychologically distanced from their parents; here you have your little soldiers that march only to the orders of their abis. The abis are obliged to obey the provincial leaders, who in turn must obey the national leaders, who in turn obey Fethullah Gülen."
The United States of America is the only country in the world where the Gülen movement has been able to establish schools funded to a great extent by the host country's taxpayers. In June 2011, New York Times shed light on schools in the United States, revealing that "Gulen followers have been involved in starting similar schools around the country — there are about 120 in all, mostly in urban centers in 25 states, one of the largest collections of charter schools in America."[32]
Federal authorities are investigating several of the movement's schools for forcing employees to send part of their paychecks to Turkey. In March 2011, Philadelphia Enquirer reported that Federal Agencies including "FBI and the Departments of Labor and Education – were investigating whether some employees were kicking back part of their salaries to a Muslim movement founded by Gulen known as Hizmet."[34]
The schools are also H-1B visa factories. (These visas are supposed to be reserved for highly skilled workers who fill needs unmet by the American workforce.) In 2011, 292 of the 1,500 employees at the Gülen-inspired Harmony School of Innovation, a Texas school, were on H-1B visas, the school's superintendent told the New York Times. The schools claim, according to an article written by Sharon Higgins in the Washington Post, that they are unable to find qualified teachers in America—which seems implausible, given the economic crisis and given that some of these new arrivals teach English, which often they speak poorly, or English as a second language, which often they need themselves.[35]
Two schools, located in Texas, have been accused of sending school funds—which are supplied by the government—to Gülen-inspired organizations. The New York Times reported that the some schools were funneling some $50 million in public funds to a network of Turkish construction companies, among them the Gülen-related Atlas Texas Construction and Trading. The schools had hired Atlas to do construction, the paper said, though other bidders claimed in lawsuits that they had submitted more economical bids.
Questions have arisen about the Gülen movement's possible involvement in the ongoing Ergenekon investigation (Ergenekon allegedly being an ultra-nationalist, pro-military, anti-government gang),[49] which critics have characterized as "a pretext" by the government "to neutralize dissidents" in Turkey.[50] In March 2011, seven Turkish journalists were arrested, including Ahmet Şık, who had been writing a book, "Imamin Ordusu" (The Imam's Army),[51]which alleges that the Gülen movement has infiltrated the country's security forces. As Şik was taken into police custody, he shouted,[52]"Whoever touches it gets burned!". Gülen Movement newspaper Today's Zaman published an interview[53] with publishers and writers who had published or written the harshest pieces against Gulen and they all claim "nothing happened to them" and thus voids claims made by Şik who made his claim apparently on an attempt to divert attention to Gulen rather than his arrest. Upon his arrest, drafts of the book were confiscated and its possession was banned. Şik has also been charged with being part of the Ergenekon plot.
 More Info:
http://gulencharterschools.weebly.com/magnolia-science-academy.html