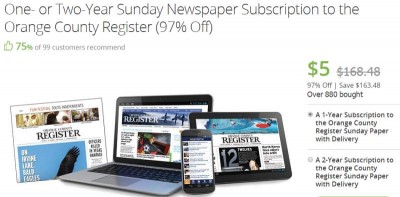 The Orange County Register has apparently hit rock bottom.  They are making a one year Sunday newspaper subscription available on Groupon for only $5 – or you can subscribe for two years for $10.  That price includes home delivery.
This is a 97% discount!  And it is a sure sign that newspapers are indeed dying as more and more Americans resort to getting their news online.
The Register has no choice but to do this as they have to keep their circulation up or they will not be able to sell any ads.
Click here to take advantage of this offer.  Remember that the Sunday paper includes an expanded comics section and the Sunday coupons.