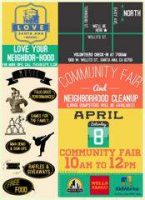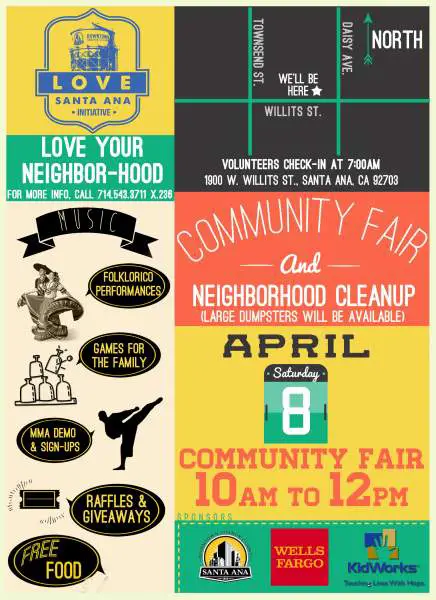 City of Santa Ana, Downtown Orange County
Community: Volunteers Needed / Se Necesita Voluntarios: Love Santa Ana Initiative Day of Community Beautification and Día del Niño Resource Fair
The Love Santa Ana Initiative Day of Community Beautification and Día del Niño Resource Fair for children and families will take place on Saturday, April 8, 2017 in the Casa Bonita and Bella Vista neighborhoods on Willits Street between Daisy Avenue and Wood Street. Through this collaborative effort, hundreds of volunteers will gather to help transform neighborhoods through an impactful day of service. Participants will be painting fences, murals, gardening, planting trees, removing graffiti, and picking up trash in the neighborhood.
Volunteers are needed for beautification projects at different locations in the neighborhoods from 7:30 a.m. to 12:00 p.m. Light refreshments will be provided during volunteer check-in from 7:00 a.m. to 7:30 a.m., followed by lunch at 12:00 p.m. Students will be eligible to earn community volunteer hours at the Love Santa Ana event! Volunteers are encouraged to carpool.
Resource Fair activities are scheduled from 10:00 a.m. to 1:00 p.m. and include music, games, and other fun festivities. Please refer to the flyer for parking, volunteer registration, and event information. Sign-up and join the team of volunteers working together to make an impactful day in the community on April 8th!
To register for the Love Santa Ana Initiative Day of Community Beautification, please visit www.lovesantaana.org. For more information, contact Frank Bejarano at (714) 834-9400—extension 136 or frank@kidworksonline.org.
—————————————————————-
Organizado por el Love Santa Ana Initiative, El Día de Embellecimiento Comunitario y la Feria de Día del Niño para niños y familias se llevarán al cabo el sábado 8 de abril de 2017 en los vecindarios de Casa Bonita y Bella Vista por la calle Willits, entre la avenida Daisy y la calle Wood. A través de este esfuerzo colaborativo, cientos de voluntarios se reunirán para ayudar a transformar los vecindarios a través de un día impactante de servicio. Los participantes pintarán cercas, murales, ayudaran la replantación del jardín comunitario, plantar árboles, quitar grafiti y recoger basura en el vecindario.
Se necesita voluntarios para los proyectos de embellecimiento en diferentes lugares de los vecindarios de las 7:30am a las 12:00pm. Se ofrecerán aperitivos ligeros durante la registración de voluntarios de las 7:00am a las 7:30am, seguido por el almuerzo a las 12:00pm. ¡Estudiantes serán elegibles para ganar horas voluntarias comunitarias en el evento de Love Santa Ana! Se sugiere que los voluntarios hagan carpool, porque el estacionamiento será limitado.
Las actividades de la Feria de Recursos están programadas de las 10:00am a las 1:00pm e incluyen música, juegos y otras festividades divertidas. Por favor referirse al folleto para el estacionamiento, el registro de voluntarios y más información sobre el evento. ¡Inscríbase y únase al equipo de voluntarios que trabajan juntos para hacer un día impactante en la comunidad el 8 de abril!
Para inscribirse en el Día de Embellecimiento de la Comunidad, visite www.lovesantaana.org. Para más información, comuníquese con Frank Bejarano al (714) 834-9400—extensión 136 o frank@kidworksonline.org.
###