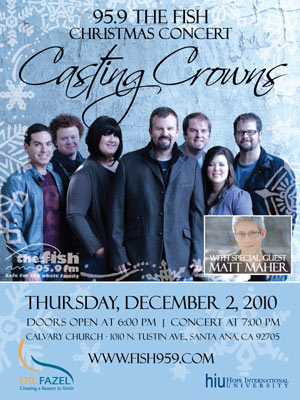 PRESS RELEASE
FOR IMMEDIATE RELEASE: NOVEMBER 22, 2010
CONTACT: MARYANN MARINO, 949-375-0856
8th Annual Fish Christmas Concert To Feature "Casting Crowns"
Listen to Win Tickets
LOS ANGELES – 95.9 FM The Fish wants to give their listeners a very special gift this Christmas! Fish listeners can win tickets to enjoy the 8th Annual Fish Christmas Concert featuring GRAMMY Award and American Music Award winning band Casting Crowns, with special guest Matt Maher, Thursday, December 2nd, at 7 pm, at Calvary Church of Santa Ana. The only way to get tickets is to WIN them on 95.9 The Fish. Tickets are not for sale.  Click here for more information.
"We are excited Casting Crowns will perform at The Fish Christmas Concert," said Chuck Tyler, 95.9 The Fish Program Director. "Nearly 3,000 listeners are expected to attend the concert, making this one of our biggest Christmas concerts to date."
The Fish Christmas Concert with Casting Crowns is presented by Dr. Fazelli at Creating Smiles Center and Hope International University. Complete information can be found online at www.fish959.com.
About 95.9 The Fish
Salem Communications Corporation is the largest commercial U.S. radio broadcasting company that provides programming targeted at audiences interested in Christian and family-themed radio content, as measured by the number of stations and audience coverage. Upon completion of all announced transactions, the company will own a national portfolio of 95 radio stations in 37 markets, including 58 stations in 22 of the top 25 markets. We also program the Family Talk ™ Christian-themed talk format on XM Radio, channel 170.
Salem also owns Salem Radio Network, a national radio network that syndicates talk, news and music programming to approximately 2,000 affiliated radio stations and Salem Media Representatives, a national media advertising sales firm with offices across the country.
In addition to its radio broadcast business, Salem owns a non-broadcast media division. Salem Web Network is a provider of online Christian and conservative-themed content and streaming and includes websites such as Christian faith focused Christianity.com, Christian living focused Crosswalk.com®, Online Bible Study at BibleStudyTools.com, and Christian radio ministries online at OnePlace.com. Additionally Salem owns conservative news leader Townhall.com® and conservative political blog, HotAir.com providing conservative commentary, news and blogging. Salem Publishing™ circulates Christian and conservative magazines such as Homecoming® The Magazine, YouthWorker Journal™, The Singing News, FaithTalk Magazine, Preaching and Townhall Magazine™. Xulon Press™ is a provider of self publishing services targeting the Christian audience.
###