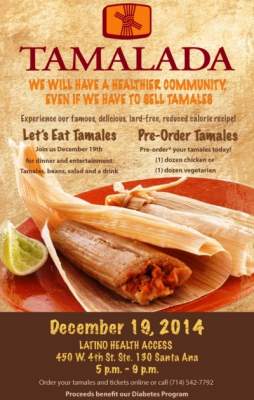 Latino Health Access welcomes the holiday season with its annual Tamalada or tamale party. They serve a healthy version of this Latin American wrapped corn meal that is low calorie and lard free.  The tamales will be served with beans, salad and a drink and entertainment will be provided as well.
The Tamalada event is set for December 19, 2014, from 5 to 9 pm, at 450 W. 4th St., Suite 130, in Santa Ana.
You can pre-order chicken or vegetarian tamales or tickets online or call 714-542-7792.  The proceeds of this event will benefit the Diabetes Program at Latino Health Access.
One of their diabetes patients was the inspiration behind the event. The patient's words echo among their employees and volunteers as they seek to disseminate health information in Orange County while empowering the residents. One patient became partially blind and could not afford the required surgery to fix his vision. Instead of simply giving up, he said he would raise the necessary $5,000, "even if I have to sell tamales."
About Latino Health Access
Latino Health Access is a nonprofit organization founded in 1993 in Santa Ana, California. They reach out to residents in laundromats, garages, churches and our recently-opened new headquarters to combat serious public health problems plaguing a community of uninsured and under-served families.
They train promotores, or community workers, to educate their own neighbors about diabetes, breast cancer, obesity, domestic violence, parenting and more. Each of their programs has been born from needs expressed by residents who subsequently engage their neighbors and friends. They hope you will join them in their mission for a more healthy community, whether you come to their morning walks, their afternoon exercise classes or to visit their own park and community center in one of America's densest cities.