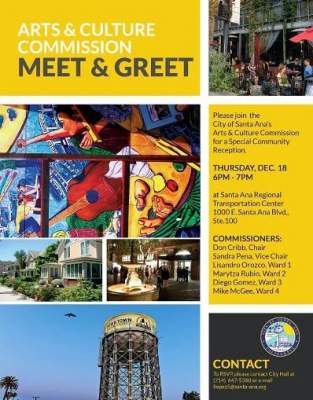 The Santa Ana Arts and Culture Commission is hosting a Meet an Greet reception on Thursday, Dec. 18, 2014 from 5 to 7 pm, at the Santa Ana Regional Transportation Center, located at 1000 E. Santa Ana Blvd., Suite 1000, in Santa Ana.
The current members of the Arts and Culture Commission include:
Don Cribb, Chair (Mayor's Representative, lives in Ward 3)
Mike McGee (Ward 4 Representative, lives in Ward 3)
Erika Ochoa (Ward 5 Representative, lives in Ward 5). Note: Ward 5 is now vacant.
Lisandro Orozco (Ward 1 Representative, lives in Ward 1)
Sandra "Pocha" Pena, (Ward 6 Representative, lives in Ward 2)
Marytza Rubio, (Ward 2 Representative, lives in Ward 2)
Diego Gomez, (Ward 3 Representative)
Note: There is no one directly representing Ward 5 due to a resignation.   Click here if you would like to apply to represent Ward 5 on the Arts and Culture Commission.
The arts and culture commission has the following powers and duties:
The commission shall act as an advisory body to the City Manager and the City Council and make recommendations regarding but not limited to:

Policies, priorities and plans for the development and improvement of arts and cultural activities in Santa Ana, and, in conjunction with other appropriate agencies, in the greater Santa Ana area.
Coordinating with the private sector and other governmental agencies in promoting arts and cultural excellence as a tool for the encouragement of economic development, business relocation and tourism.
Organizing and promoting activities which celebrate the City and its unique cultural heritage.
Allocation and budgeting of funds for arts and cultural funding.
Payments for the design, execution and placement of public art projects, within established appropriations for the art projects.
Encouraging the use of local artists in City public art projects.
Guidelines for accepting, selecting, purchasing, commissioning, placing and preserving art projects and other City art acquisitions, gifts or extended loans of art.
Make recommendations to the city council on de-accessioning of artworks, when necessary;

The commission shall also advocate for arts education, cultural diversity, the Sister Cities Program, and other initiatives that further the growth and sustainability of the arts and cultural community in Santa Ana area.
In addition, the Commission shall have such other powers and duties as may be appropriate in carrying out the purposes and goals of this Division and as set forth in reports or recommendations adopted by the City Council.
Consider matters referred to it by the City Manager or the City Council.
The Arts and Culture Commission meets on the 3rd Thursday of the month at 5:30 p.m. at the Garfield Community Center, located at 501 N. Lacy St., in Santa Ana.  Agenda | Minutes.