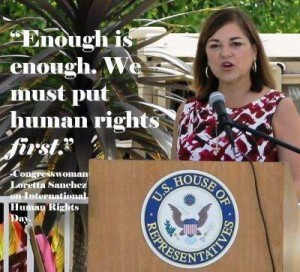 Congresswoman Loretta Sanchez, Representing California's 46th Congressional District
STATEMENT, FOR IMMEDIATE RELEASE: December 10, 2014
MEDIA CONTACT: Barb Solish, Barb.Solish@mail.house.gov
REP. LORETTA SANCHEZ STATEMENT ON HUMAN RIGHTS DAY
WASHINGTON – Congresswoman Loretta Sanchez (CA-46) today released the following statement in honor of International Human Rights Day, which marks the adoption of the United Nations Universal Declaration of Human Rights.
"Every year, International Human Rights Day reminds us of the work that still must be done in the global effort to protect human rights. As we get closer to a vote on the Trans-Pacific Partnership (TPP), we must acknowledge the egregious human rights violations that continue to be committed by the Vietnamese government. As the founder and co-chair of the Congressional Caucus on Vietnam, I have witnessed Vietnam make empty promise after empty promise that it will improve its human rights record. Enough is enough; we must put human rights before economic gain.
"And here at home, especially in light of yesterday's CIA torture report, we must recommit ourselves to upholding our values and the right to human dignity for all."
###
Congresswoman Loretta Sanchez is proud to represent California's 46th Congressional District, which includes the cities of Anaheim, Santa Ana, and parts of the cities of Garden Grove and Orange in Orange County.