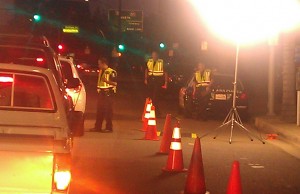 Immigrant rights activists Maria Zacarias and Theresa Dang were arrested on suspicion of resisting or delaying a police officer and on suspicion of being intoxicated in public, respectively, said Santa Ana police Cpl. Anthony Bertagna. They have been released, according to the OC Register.
Zacarias and Dang helped change checkpoints in Santa Ana when police agreed to allow unlicensed drivers 20 minutes to find someone with a license to whisk their car away from an expensive impound. The OC May Day Coalition said then that the previous policy unfairly targeted and profited off the undocumented community. The two went out to Friday night's check point and offered to be on-spot drivers when the arrests happened, according to the OC Weekly.
My own research into the SAPD's DUI checkpoints, a few years ago, revealed that they hardly ever caught any actual drunk drivers.  They do however serve to hassle immigrants.  Beyond that however there is a simple reason why the SAPD keeps running these ineffective checkpoints.
The DUI checkpoints are paid for by grants from the State of California.  And the money is used to pay massive overtime to the cops who run the checkpoints.  SAPD Chief Carlos Rojas no doubt makes sure that only his buddies get to work the checkpoints so they can rake in the overtime money.
I told State Senator Lou Correa and former Assemblyman Jose Solorio about the waste of time and money that are these checkpoints.  But neither of them did anything to stop the money from rolling in from Sacramento.
What about our lame all-Latino City Council and our Latino City Manager?  Not to mention the Latina City Attorney and the aforementioned Latino SAPD Police Chief?  Why do they all keep supporting these ridiculous checkpoints?
If we want to stop drunk driving we need to park cops next to the bars in Downtown Santa Ana and watch them haul off the drunken hipsters on a nightly basis.