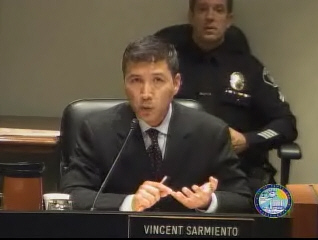 We thought that Santa Ana Councilman David Benavides was going to seek the Mayor Pro Tem nomination at tonight's City Council meeting.  However none of his colleagues on the City Council nominated him.
In the end it was Councilman Vince Sarmiento who was nominated and then selected as the new Mayor Pro Tem.  This became possible after the previous Mayor Pro Tem, Sal Tinajero, opted not to retain the title.
As Mayor Pro Tem, Sarmiento will run the Santa Ana City Council meetings when Mayor Miguel Pulido is late to a meeting, leaves a meeting early, or is absent altogether.
This was an early Christmas gift for Sarmiento, who is going to be running for reelection in 2016.
Sarmiento is an attorney but he makes his money off the family business – a bunch of nightclubs and restaurants including Festival Hall and Diego's Downtown.
Sarmiento should have no problems running the City Council meetings.
You have to wonder though why Councilwoman Michele Martinez didn't get a chance to serve as Mayor Pro Tem.  She is the only Council Member who distributes a monthly email newsletter.  While we have our differences with her, we also recognize that she works harder than her male colleagues – and definitely does more than the accidental Council Member, Angie Amezcua, who is barely involved in the City Council.