The attack happened at around 11 a.m. this morning when five KKK members showed up at Pearson Park. The KKK leaders had announced their intention to rally at the park earlier this week. The clan members drove up in a vehicle and were confronted by protesters right away.
The Anaheim Police claimed that the protesters attacked the Klansmen.
One of the KKK members allegedly used a flag pole to stab a protestor in his upper torso. Witnesses were not clear if the flag pole had an American or a Confederate flag on it.
A separate fight broke out about 100 yards away as yet another protester was stabbed by a Klansman. Witnesses also said that there was a third stabbing as well.
The man stabbed with the flag pole is in critical condition at  a local hospital according to the Anaheim Police. The second victim had injuries described as non life-threatening. The third victim's injuries are not clear.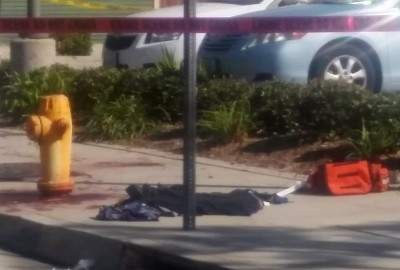 The Klansmen showed up wearing black outfits with Confederate patches. The Police claimed that there were at least 30 counter-protesters there.
Two Klansmen suspected in the stabbing were arrested as were three protesters suspected of stomping another Klansman.
The Anaheim police used their Twitter account on Friday to warn the community of the planned KKK rally. They noted that several such rallies have taken place in the last few years with Klansmen passing out "literature" and holding signs. They didn't warn of any potential stabbings.
You have to wonder what would have happened if the protesters had been from the Black Lives Matter group?  How many would have been shot by the police?
In related news, leading Republican Presidential candidate Donald Trump is inspiring white supremacists, according to a national organizer of a leading Ku Klux Klan group — and his candid rhetoric is being used to recruit more of them. The KKK is using the Republican presidential frontrunner as an outreach tool, Rachel Pendergraft, the national membership coordinator for the Knights Party, told The Washington Post. Trump's candidacy, which has been characterized by often divisive nativist rhetoric, has "electrified" some members, according to Time Magazine.
DavidD Duke, the former grand wizard of the Knights of the Ku Klux Klan, also recently told his bigoted followers that not voting for Trump would be "treason to your heritage" and implored them to volunteer for the billionaire candidate because they would find like-minded haters in the campaign, according to the New York Daily News.