The family and friends of Ernesto Canepa, a man shot to death by SAPD police officers on February 27, 2015, are holding a protest this afternoon at the corner of 3rd and Shelton in DTSA, according to a Facebook page.
Canepa was suspected of stealing a necklace from a grandmother in Santa Ana, in front of her grandkids.
The OCDA recently announced the results of their investigation into this police shooting and as usual they found the police to be innocent.
The OCDA claimed that surveillance footage led SAPD police to identify Canepa as the owner of the Dodge Charger filmed in the incident. SAPD Police Officer Christopher Shynn and his partner visited the Tustin home of Canepa's mother—but he hadn't lived there for months. Tustin police told the SAPD cops that Canepa "likes to run and fight with police officers" based on their experience. On the morning of February 27, a tip on Canepa's car led Shynn to the intersection of Third and Shelton Street in Santa Ana, according to the OC Weekly.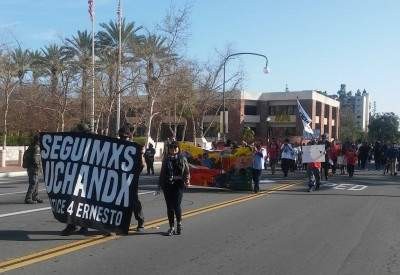 Additional SAPD police officers came to the house, believing Canepa was there. He suddenly came out of the house and jumped into his car. Officer Shynn then got out of his vehicle and he ordered Canepa to turn off the car, at gunpoint. Canepa refused to do so. He stayed in the car. The OCDA referred to this refusal by Canepa to comply as
"pre-assaultive," which just might be a new word.
Another SAPD cop then threatened to shatter Canepa's vehicle window with his baton. Then, according to the cops, Canepa put his car into drive and it lurched forward. That is whey Shynn opened fire, at close range, hitting Canepa six times in his head and neck, in apparent fear for his life.
SAPD police officers noted in their report that the car was in drive and they also found a BB gun in it, but no handgun.
Canepa's death struck a nerve in his homeland, Mexico, where officials demanded that the U.S. Government investigate the killing.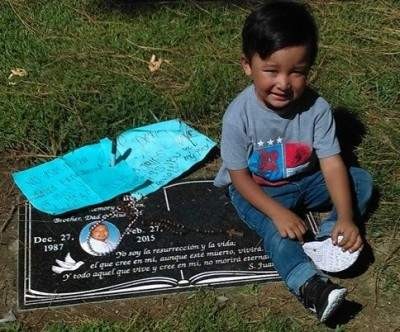 Canepa's family previously protested at a Santa Ana City Council meeting last March.
Canepa arrived in the U.S. as a child, from the troubled, impoverished Mexican state of Guerrero; he spoke fluent English and was married with two children, his family's attorney, Humberto Guizar, told The Los Angeles Times.
Canepa was married and he worked in construction. He was very humble, according to a friend, Josh Martinez, as described in an article by the O.C. Register. Family and friends described Canepa as a giving and loving family man who worked two jobs to support his four children. Neighbors said he didn't take part in gang activity, and wasn't known to be violent, according to another O.C. Register article.
Canepa's family also sued the SAPD.