Have you been to Santa Ana's new bowling lanes yet? Round 1 opened up at the MainPlace Mall a few months ago. They offer bowling, karaoke, billiards and an arcade. This is their fourth location in California. Click here to see the other locations.
My wife's company had an after hours employee event at Round 1 on Thursday night. I tagged along. I am not a great bowler but I never miss a chance to do karaoke!
Round 1 provided all the food for the evening – and I could not eat much of it. They brought cookies, muffins, pizzas and lastly a simple salad with lettuce, onions, tomatoes, black olives and mushrooms. I am no longer eating carbs so I ended up having two helpings of salad with a honey mustard dressing that was the least bad of the dressings they offered. And I don't drink alcohol anymore either so the pitchers of beer were also of no interest. I ended up drinking a lot of water.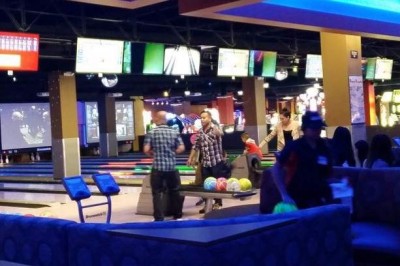 The bowling was fun. Round 1 provides bowling shoes from vending machines. They have state-of-the-art digital controls for the bowling pins and a monitor at each station that shows fun graphics if you have a strike or a spare.
None of us however liked it when the lights got dark and the bowling lanes were illuminated with a crazy light show. It made it hard to bowl.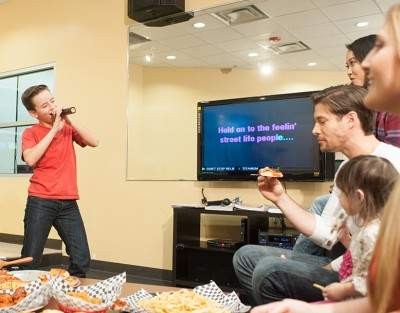 After two hours of bowling we finally got to enjoy one of their karaoke rooms. It was huge, with couches and a giant TV monitor with a remote used to select thousands of popular songs from many eras. I finally got to sing David Bowie's "Life on Mars!"
One huge bummer was that Round 1 does not allow you to enjoy adult beverages in their karaoke rooms. Are you kidding me?  That is incredibly lame. I don't drink anymore but other folks wanted to and they were not allowed to do so.
It is great to have bowling lanes and karaoke available now in Santa Ana. Round 1 could be better but at least the place is clean and modern with good service. We could do worse!
Now if only we had a first run movie theater in town…