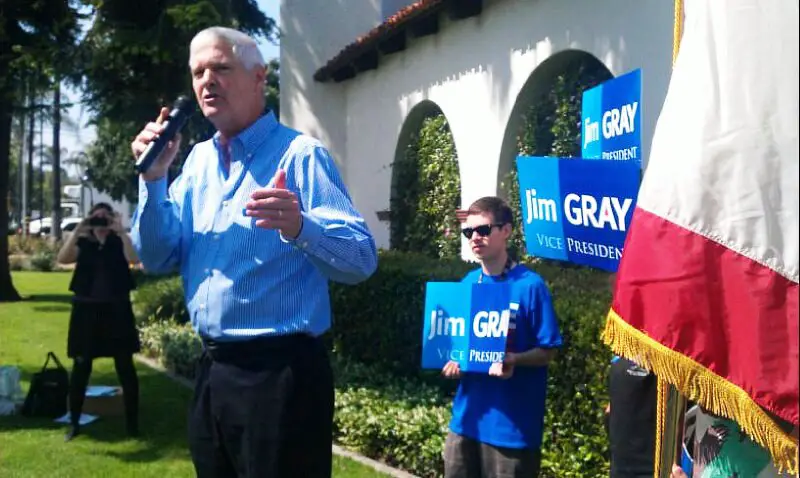 FOR IMMEDIATE RELEASE
Contact: Tom Hanson, Chair, Libertarian Party of Orange County
JUDGE JIM GRAY WELCOMED HOME AS LIBERTARIAN PARTY VP NOMINEE
Returns to Orange County to Begin Campaign, Rally Supporters
Newport Beach, CA – A group of several dozen supporters, Libertarian party members, friends and family and onlookers were on hand this past weekend to welcome home Ret. Judge Jim Gray, the Libertarian Party candidate for Vice President of the United States of America on Saturday.
"It is an honor to stand before you today," said Gray. "I am so grateful to all my friends, family and colleagues who have had a hand in this effort. And this was truly a team effort. It's great to be home, but it probably won't be for long," he said smiling.
Judge Gray was nominated at the Libertarian convention May 5 in Las Vegas along with Presidential nominee Gov. Gary Johnson. Judge Gray was introduced at the local event – held at the Bowers Museum in Santa Ana — by Orange County Libertarian Board Member Art Pedroza, who worked with Judge Gray on his 2004 Congressional campaign.
See Judge Gray's Homecoming speech from the Bowers Museum. (http://www.youtube.com/watch?v=kHUL6vTM3D0)
Also on hand to support the Judge was Libertarian Steve Collett, who is seeking the 33rd Congressional seat as a Libertarian candidate in the Venice area. He is scheduled to be part of a debate tonight night at UCLA. For more information, go to http://www.ElectCollett.com.
"I am proud. I am invigorated. I am excited," gray told onlookers. "With Gov. Gary Johnson, I am determined to bring back prosperity and liberty to the United States of America." Judge Gray said. "We have a long road ahead of us, but I believe the Libertarian Party — with Gary Johnson, myself, and the power of the American people behind us – can change this country and avert a looming financial collapse and a loss of personal liberties. The time for change is now."
A successful jurist who lives in Newport Beach, Calif. and presided over the Superior Court of Orange County, Judge Gray has been active in the Libertarian Party since 2004.
He was the 2004 Libertarian Party candidate for the U.S. Senate in California challenging incumbent U.S. Senator Barbara Boxer. He is also the chief proponent of a California ballot initiative called "Regulate Marijuana Like Wine" that, if passed, would decriminalize cannabis consumption and production.
As the Libertarian nominees, the Johnson/Gray ticket is expected to be on the ballot in all 50 states.
Accepting the nomination, Johnson said, "Millions of Americans want and deserve the opportunity to vote for a candidate in November who will get us out of the war in Afghanistan immediately, truly cut federal spending, end the failed war on drugs, repeal the Patriot Act, and support marriage equality. I am excited to offer that option: A proven fiscal conservative, a proven defender of civil liberties, and an advocate for social tolerance."
For more information regarding Judge Gray, go to his Web site at www.JudgeJimGray.com. To schedule interviews or for media inquiries, please contact Joe Hunter at media@garyjohnson2012.com, or at 801.303.7924.
###