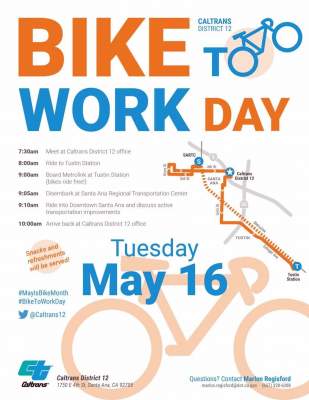 City of Santa Ana
Community: May is Bike Month: Ride with Caltrans for Bike to Work Day on Tuesday, May 16 at 7:30 am
May is National Bike Month and Caltrans is celebrating with Bike to Work Day on Tuesday, May 16, 2017. Bike to Work Day, one of the many events observed during Bike Month, is a celebration of cycling and an opportunity to showcase the many benefits of bicycling while encouraging active transportation.
For Bike to Work Day, Caltrans is inviting thousands of regular and first-time bike commuters to get more active, to experience an alternative mode of commuting, and to help protect the environment. Caltrans' Bike to Work Day event will begin promptly at 7:30 a.m. at the Caltrans District 12 Office, located at 1750 E 4th Street, Suite 100, Santa Ana, CA 92705. At 8:00am, bike commuters will ride to the Tustin Station and board the Metrolink at 9:00 a.m. Bike commuters will ride and disembark at the Santa Ana Regional Transportation Center at 9:05 a.m., followed by a ride into Downtown Santa Ana to discuss active transportation improvements in the community. Bike commuters are expected to return to the Caltrans District 12 Office by 10:00 a.m. Snacks and refreshments will be served.
Metrolink will offer free rides during Bike to Work Week, May 15-19, 2017, to anyone who brings a bike on-board their trains. Riders must accompany their bike for the entire trip.
"Bike Month is more than just a day or week," said Mayor Pro Tem Michele Martinez. "Bike Month also champions healthy and sustainable modes of transportation; by emphasizing the importance of active transportation infrastructure, we help ensure a safe, bikeable community," she added.
For questions regarding Caltrans' Bike to Work Day event, please contact Marlon Regisford at marlon.regisford@dot.ca.gov or (657) 328-6288.