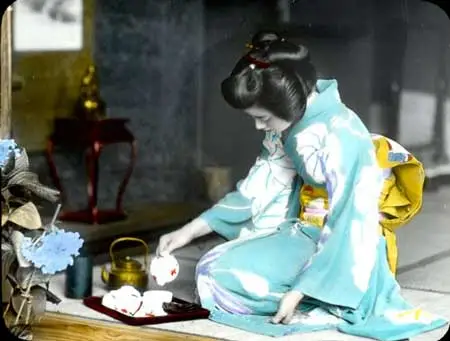 JAPANESE TEA CEREMONY & TASTING:
THE PLEASURE OF CHANYOU
Saturday, June 25, 1:30 PM (Repeated at 2:30 & 3:30 PM)
Experience the serene beauty of this traditional Japanese Tea Ceremony while tasting freshly prepared tea and learning the cultural history of this timeless custom.
In chanoyu the host entertains the guests with delicious tea which the guests thankfully receive. This is a way of deepening their spiritual ties. Delicious tea is not just a matter of the taste of the tea, but includes the selection of utensils to illustrate the theme of the tea gathering, their expression of the season and the year's events, the beauty of the host's movements and the elegance of his conversation, and the consideration of like-minded guests. It is the flavor of an event that can happen only once in a lifetime.
The History of Chanoyu
Tea was brought from China during the Heian period (in the 9th century), and during the Kamakura period (at th end of the 12th century) tea was used medicinally. Then gradually the custom of drinking tea as a luxury item became widespread. During the Muromachi period (in the 15th century) imported goods from China (karamono) were used as ornaments in living rooms and as tea utensils, and chanoyu became firmly established. During the Azuchi Momoyama period (in the 16th century) Sen no Rikyu gave chanoyu its final form. For more than 400 years since that time, chanoyu has been a part of Japanese people's lives, giving them spiritual richness and pleasure.
A Tradition that Lives On
It is said that the essence of Japan's art and crafts is contained entirely in chanoyu. Chanoyu also had a great affect on Japanese culture through kaiseki cuisine and the architecture of the tea room. The revolutionary culture that tea devotees created became a tradition, and the spirit of the age was then breathed into it to produce the chanoyu of today. Through keiko (repeated practice of the actions involved in tea procedure), basic units of movements (kata) are internalized. Within the kata which have been internalized you can feel the tradition and spirit of chanoyu.
Graciously sponsored by the William Gillespie Foundation
Free to members; free with paid admission; $8 single ticket
For more information, please email education@bowers.org or call 714.567.3677
THE BEAUTY OF JAPAN:
KIMONO LECTURE
& DEMONSTRATION
Sunday, June 26, 1:30 PM – 3:00 PM
Nobuaki Tomita, internationally acclaimed Kimono designer and founder of Kyo Kaori Co., Ltd will present stunning kimonos from his own design collection and highlight his inspiration for the beautiful works.
Nobuaki Tomita is a Japanese kimono stylist and textile designer. He established his own company "Kyokaori" at the age of 27 after learning about kimono industry. He has provided original kimono for over 2,000 TV programs such as NHK Grand Song Festival, drama series and movies. Nobuaki has experiences working with celebrities. For the theatre, he has supervised the costumes for The Cherry Orchard starring Mitsuko Mori, Mainoie starring Yoko Yamamoto. While working for Kimono Salon magazine in 2003 and 2004, he created kimono for actresses Kyoko Koizumi, Kyoko Hasegawa, Rina Uchiyama and Yukie Nakama. He was also selected as one of 4 master kimono by woman's magazine Fujingaho.
Throughout his career, Nobuaki has been proactive in promoting the traditional clothing and Japanese culture internationally. In 1994 and 1995, He has presented kimono shows for cultural exchange between China and Japan in Shanghai. Since 2006, he has held many kimono shows and exhibitions in San Francisco, Palo Alto, Mountain View, Las Vegas and Los Angeles. His high-profile works were donated to the Bowers Museum of Santa Ana, the Asian Art Museum of San Francisco, Palo Alto Art Center, and Japanese American National Museum. In 2009, Nobuaki also threw out the opening pitch at Dodger Stadium in Los Angeles wearing the kimono. In November 2010 he was invited to present a lecture followed by a demonstration at Southern Taiwan Uiversity and WuFeng University in Taiwan.
Nobuaki also devotes his energy to pass on traditional Japanese culture. He lectured before at universites in Japan to encourage the younger generations to carry on the cultural heritage.
Graciously sponsored by the William Gillespie Foundation
Members: $7
Non-members: $10
For more information, please email education@bowers.org or call 714.567.3677