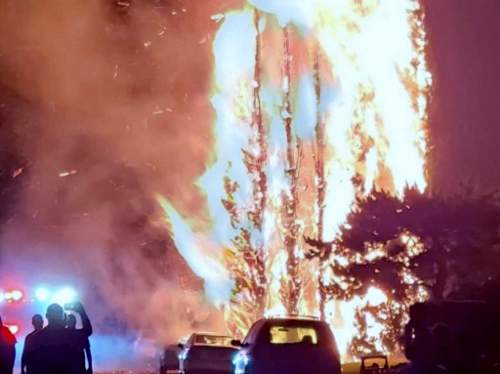 There is an effort underway to ban all fireworks in Santa Ana. A proposed ban on fireworks has been placed on the agenda for the next Santa Ana City Council meeting, which is set for Tuesday night, Dec. 21, 2021. The agenda item is sponsored by City Council Members Thai Viet Phan, Nelida Mendoza and Mayor Pro Tem Phil Bacerra.
A study by scientists at UC Irvine found that Independence Day fireworks shows spark plumes of pollutants that can pose significant health risks. On average, Los Angeles County last year saw a 50% increase over 2019 in pollutants on the Independence Day holiday that was generated by fireworks.
Of all the counties in California, Los Angeles County experienced the highest levels of fireworks-related airborne pollutants during the 4th of July in 2019 and 2020. The unique topography of Orange County causes ocean winds to drive the pollutants east, however the Santa Ana mountains block it in.
The fireworks-related pollution was also twice as much in neighborhoods housing lower socioeconomic residents, more minorities and those with higher asthma rates. The fireworks-related pollution was higher in the northern cities of Orange County, where "safe and sane" fireworks are allowed. The larger, more organized fireworks display that is put on by local governments are just as toxic as the backyard fireworks.
The pollutants can be sucked into the lungs and passed on to other tissues in the body, the researchers say. Fireworks contain barium, copper, magnesium, potassium and strontium.
Jun Wu, a UCI professor of public health who is a co-author of the study, says that the fine particles are known to cause a wide range of adverse health effects, including premature mortality, respiratory and cardiovascular diseases, adverse pregnancy outcomes, and neurological diseases. The pollutants generated by the fireworks can increase the risks of cancer not to mention anxiety attacks.
Fireworks shows could be replaced by much better alternatives, such as "drone shows" or laser displays. Drone shows are in fact growing in popularity in Japan and are more sustainable. An investment in drones will be much cheaper in the long run than setting off new batches of traditional pyrotechnics year after year.
Fireworks also cause fires and lead to dangerous accidents. There is also evidence that illegal street gangs have gotten involved in selling illegal fireworks imported from Mexico.
It is true that non-profits make a lot of money selling safe and sane fireworks in Santa Ana but that revenue could be replaced by a street fair, such as the popular annual street fair in Downtown Orange. Such fairs provide an opportunity for non-profits to sell a variety of food and beverages and use the sales proceeds to fund their activities.
Support All Fireworks Ban, ON city council agenda, Tuesday, December 21, 2021. ITEM #43
Discuss and Consider Directing City Manager to Direct Staff to Introduce an Ordinance for a Ban on the Use, Possession and Sale of All Fireworks – Councilmembers Phan, Mendoza and Mayor Pro Tem Bacerra
WE need VOTE OF 4 AFFIRMATIVE FROM CITY COUNCIL MEMBERS FOR STAFF TO BE DIRECTED TO WRITE REPORT ON THE DETRIMENT OF ALL FIREWORKS TO THE COMMUNITY, AND DRAFT ORDINANCE TO BAN ALL FIREWORKS. IF APPROVED WILL GO THROUGH 2 READINGS BY CITY COUNCIL MEMBERS, THEN FINAL VOTE IS TAKEN; GOAL IS IN FEBRURAY/MARCH TO GET BAN OF ALL FIREWORKS APPROVED. Please communicate to Mayor/City council your support for Ban and share your experiences/concerns and problems/detrimental impact for your family and in your neighborhood. POINTs/ Relevant data:
All FIREWORKS, sale of safe and sane fireworks and illegal fireworks have resulted in a detrimental environment and serious on-going crisis for the past several years in Santa Ana. Particularly to (1) Public Health – adverse health effects including premature mortality, respiratory and cardiovascular diseases, adverse pregnancy outcomes and neurological diseases, noise impact, property damage, environmental contamination with pollutants in the air, fear of resident's houses and trees catching fire, and businesses —particularly with California drought (2) increase in manpower services and costs, Data provided by City of Santa Ana:
Police Enforcement
Overtime Hours/ Overtime Cost
2017 = 313; 2018 = 152; 219 =45; 2020 = 1,235; 2021 = 616
$22,536 $10,944 $3,975.00 $113,574 $59,202.70
Police phone calls. Police calls during 4th of July weekend:
2017 = 723; 2018 = 685; 2019 = 763; 2020 = 917; 2021 = 902 * many residents do not report because of fear.
Disturbing the Peace Fireworks
2017 = 212; 2018 = 255; 2019 = 270; 2020 = 419; 2021 = 438; CALLS more than DOUBLED
Total fireworks seized:
2017 = 1,725
2018 = 5,862
2019 =6,375
2020 =43,486
2021 = 59,493
Consequences and Accountability since April 16, 1984 that approved selling of Fireworks. Ordinance is 37 years old; environment today is very different than 1984. Initial intent was to provide fundraising opportunities for non – profits. TODAY THE RISKS OUTWEIGH THE BENEFIT AND ORDINANCE 37 IS OUTDATED ( OF the 34 cities in OC, only 10 allow for sale of fireworks; all in North County, Anaheim, Buena Park, Fullerton, Garden Grove, Huntington Beach, Stanton, Santa Ana, Villa Park, Westminster. AND only 6 counties in California have some of their cities that sell fireworks; San Bernardino, OC – only 10 cities, of 34, LA – Los Angeles city NO, others yes, Riverside, Ventura, Imperial County. * Not all cities in each county sell fireworks. There are 58 counties in California. OVERTIME COUNTIES AND CITIES HAVE RECOGNIZED THAT THE RISKS OUTWEIGH THE BENEFIT.
New Strategies for fundraising for nonprofit organizations. Many models in the OC. Other cities that Ban all fireworks operate and manage celebrations for July 4th holiday and are responsible for city fireworks. * Over a 5-year period downward trend of permits approved for non-profits to sell fireworks in Santa Ana; THE FIRST STEP IS TO BAN ALL FIREWORKS.
2017 = 74
2018= 70
2019= 69
2020= 57
2021= 54
HOW RESIDENTS AND BUSINESSES CAN HELP: ON AGENDA FOR TUESDAY, DECEMBER 21; YOU CAN
• GO IN PERSON TO MEETING AND MAKE PUBLIC COMMENTS IN SUPPORT OF BAN WITH YOUR CONCERNS AND EXPERIENCES WITH THE FIREWORKS CAUSING PROBLEMS AND ENCOURAGE VOTE OF YES TO BAN ALL FIREWORKS.
• SEND AND EMAIL IN SUPPORT AT: ecomment@santa-ana.org by 4pm on Dec. 21
• Make your public comments at the meeting via zoom. Dial in at 669 – 900 -9128. Meeting Id number is 325965149#
Most Sincerely,
Susana Sandoval, Irma Jauregui, Adolfo Sierra
Santa Ana Healthy Neighborhoods Alliance
Residents of Santa Ana, 30 plus years
How To Participate; instructions from City web site where Dec. 21 agenda is posted:
SENDING E-MAIL OPTION – Public comments may be sent via email to the City Clerk's office at ecomment@santa-ana.org by 4:00 p.m. on the day of the meeting. Comments received after the cut off will be distributed to the City Council and imaged into the City's document archive system which is available for public review as early as possible; or
PROVIDING VIRTUAL PUBLIC COMMENTS OPTION – Members of the public may provide live comments during the meeting by Zoom or Conference Call. Join by Zoom directly at https://us02web.zoom.us/j/315965149. If you would like to learn how to use Zoom before the meeting, visit the Zoom Video Tutorials page; or join the Conference Call (669) 900-9128 and enter Meeting ID: 315-965-149#. You will be prompted by the City Clerk when it is time for a: i) closed session item, ii) general agenda item, iii) public hearing item, or iv) for Special Housing Authority item. You may request to speak by dialing *9 from your phone or you may virtually raise your hand from Zoom when the designated public comment period, as listed below, has been opened. After the Clerk confirms the last three digits of the caller's phone number or Zoom ID and unmutes them, the caller must press *6 or microphone icon to unmute your device. Callers are encouraged, but not required, to identify themselves by name. Each caller will be provided three (3) minutes to speak, unless due to the number of speakers wanting to speak a decision is made to provide a different amount of time to speak.
IN-PERSON PUBLIC COMMENTS OPTION – Members of the public can provide in-person comments at the podium in the Council Chamber. The Council Chamber will have seating available for members of the public to attend in-person. Pursuant to the Department of Health, face coverings are required for members of the public who enter City buildings regardless of COVID-19 vaccine status. Public comments are limited to three (3) minutes per speaker, unless a different time is announced by the presiding chair. Speakers who wish to address the Council must do so by submitting a "Request to Speak" card by 5:00 p.m. for Closed Session items and by 6:00 p.m. for all other designated public comment periods as listed below. Cards will not be accepted after the Public Comment Session begins without the permission of the presiding chair.