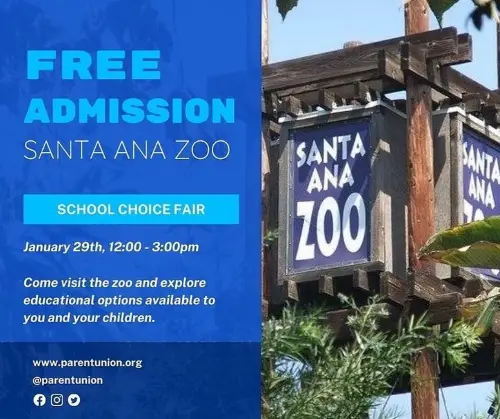 Join Community leaders, parents, education partners, business leaders to celebrate National School Choice Week at the 7th Annual O.C. Parent Union School Choice Fair, on Jan. 29 at the Santa Ana Zoo. This is a free community event with food, entertainment, family activities and Free entrance to the zoo.
Come learn about the quality public school choice options available for K-12 students:
Free Public Education Enrollment Opportunities
District Schools
Public Charter Schools
On-Line Learning
Home school
Where: Santa Ana Zoo
When: Saturday, January 29, 2022
Time: 12:30 pm – 3:30 pm
Please RSVP. For more information please contact: Cecilia Iglesias at 714-573-2208 Email: cecilia@calpolicycenter.org or www.parentunion.org.
Sponsors include: