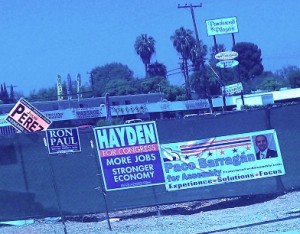 The Orange County Voter Registrar finally closed the ballot counting from the June 5 Open Primary, yesterday.  Ultra liberal 69th Assembly District candidate Julio Perez lost by 242 votes to Republican Jose "Joe" Moreno, who will now face off against top vote-getter Tom Daly, a corporate Democrat, in the November General Election.
Perez and his union allies spent a small fortune and all they got out of it was third place.  I have argued in a previous post that Perez and fellow Democrat Michele Martinez both erred by not attacking Daly, but there might be more to this story.
Perez' fellow liberal, Francisco Barragan, entered this contest late and did not campaign, with the exception of a few huge signs.  Barragan, like Martinez, lives in Santa Ana.  Perez claims to as well but that has been contested throughout his campaign.
Why did Barragan enter this race?  He is closely allied with failed Santa Ana Mayoral candidate Alfredo Amezcua.  He is also a close friend of liberal Orange Juice blogger Vern Nelson, who is a Perez loyalist. Barragan lived in San Francisco for years and I am quite familiar with his political viewpoints.  He pretends to be conservative, as a former Marine, but his viewpoint is just as liberal as Nelson's.  And they both embraced the Occupy movement.
Click here to read the rest of this post.