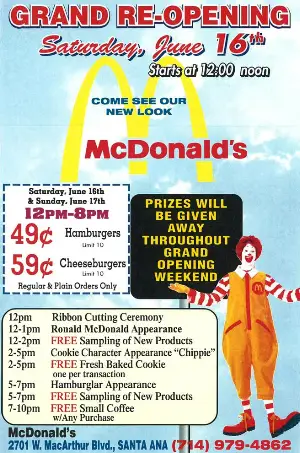 ***MEDIA ALERT***MEDIA ALERT***
FOR IMMEDIATE RELEASE: June 12, 2012
CONTACT: Sue Tucker (949) 350-3017, stucker@ocpublicrelations.com
Man-Cal, Inc. to Re-Open Santa Ana McDonald's Store with State-of-the-Art Enhancements
Top Owner/Operator Virginia Mangione Setting Pace with This Weekend's Re-Opening and Expects New Store (#11) Opening in September 2012
WHAT: On Saturday, June 16th Mangione and her staff will be celebrating the grand re-opening of their McDonald's store in Santa Ana, beginning at 12pm. The Santa Ana location first opened on November 30, 1995 and was Mangione's 9th store.
WHEN: Saturday June 16, 2012, from 12:00 pm – 8:00 pm
WHERE: McDonald's, Santa Ana / STORE MGR: Beronica Rivera
2701 W. MacArthur Blvd., Santa Ana, CA, 92704, (714) 979-4862
16th PHOTO Ribbon Cutting by VIPs 12:00pm
OPPS: Ronald McDonald Appearance 12:00pm – 1:00pm
Cookie Character Appearance "Chippie" 2:00pm – 5:00pm
Hamburglar Appearance 5:00pm – 7:00pm
16th SPECIALS: FREE Sampling of New Products 12:00pm – 2:00pm & 5:00pm – 7:00pm
FREE Fresh Baked Cookie w/Purchase 2:00pm – 5:00pm
FREE Small Coffee w/ any purchase 7:00pm – 10:00pm
16th & 17th Hamburgers – only 49¢ 12:00pm – 8:00pm
SPECIALS: Cheeseburgers – only 59¢
WHO: Virginia Mangione is the owner-operator of Man-Cal, Inc. Her late husband, Sam Mangione, who established Man-Cal, Inc. (McDonald's franchise chain) in 1967 would be very proud of the legacy he started over forty years ago which is still playing a vital role in the Orange County economy today. Virginia Mangione and her daughters, JoAnn and Samantha will be in attendance.
CONTACTS: Pat Robinson / Man-Cal, Inc. (949) 722-8625
Sue Tucker / OC Public Relations (949) 350-3017 (on site cell)
For more information, please call Man-Cal, Inc. at (949) 722-8625
# # #