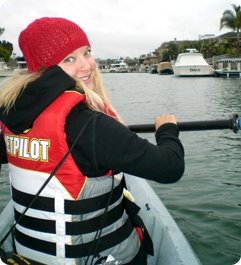 RESERVE YOUR SPACE TODAY! SANTA ANA FAMILY YMCA SUMMER CAMP 2012
Join us for ENDLESS POSSIBILITIES at the Y! What better way to start your summer than at the YMCA Summer Camp? Each day of camp comes packed with the perfect amount of activities and fun. Children will get to make new friends, go on exciting adventures, and participate in activities in a structured and nurturing environment.
Our experienced staff is dedicated to making your child's summer stimulating and memorable. Our program will include weekly field trips, special events, sports clubs, and themed events and activities.
ENDLESS POSSIBILITIES
• Weekly Field Trips
• Specialty Clubs
• Sports & Outdoor Activities
• Character Development
• Licensed, Full Day Program
• Full Time or Part Time
• Weekly/Monthly Rates
• Inclusion Support for Special Needs
June 18th-Aug 30th, 6:45AM-6PM
YMCA OF ORANGE COUNTY | ymcaoc.org/summercampSUMMERCAMP2012
June 18th – August 30th
SUMMER CAMP SITES:
ARROYO YMCA, 11112 C o r o n el Ro a d, Santa Ana, CA 92705, (714) 544-4051
BENSON YMCA, 12712 Elizabeth Way, Tustin, CA 92780, (714) 544-0173
ESTOCK YMCA, 14741 North B. Street, Tustin, CA 92780, (714) 669-5642
LOMA VISTA YMCA, 13822 Prospect Avenue, Santa Ana, CA 92705, (714) 730-0541
FIELD TRIPS
• CA Science Center
• Knott's Berry Farm Theme Park
• Beach
• Y Games
• Anaheim Angels Baseball Game
• Pirate Dinner
• The Long Beach Aquarium
• Movies
• Boomers
• BBQ at Arroyo YMCA
CLUBS
• Cooking
• Arts
• Science
• Scrap Booking Club
• Sports Club
• Flag Football
• Video and Photography Club
• Culture Club
• ArtClub
• Basketball Club
• Journaling Club
• Comic Club
THEMES
• Endless Possibilities
• 125 Years of Celebration
• Amazing Amazon
• Got Salt? (all things sea water)
• World Sports (Olympics/sports
from different countries)
• Ahoy Matey (pirates)
• Mad Science
• Zoofari
• Planes, Trains, Automobiles
(transportation)
• Mission Control (space theme)
YMCA OF ORANGE COUNTY | ymcaoc.org/summercamp
The YMCA of Orange County does not discriminate against any person on the basis of his or her disability by any YMCA program, you have a right to file a complaint with the School District under the District's section 504 complaint procedure.
Visit ymcaoc.org/summercamp for calendars and registration
Start by June 1st and receive year round pricing (savings of up to $150 per month).