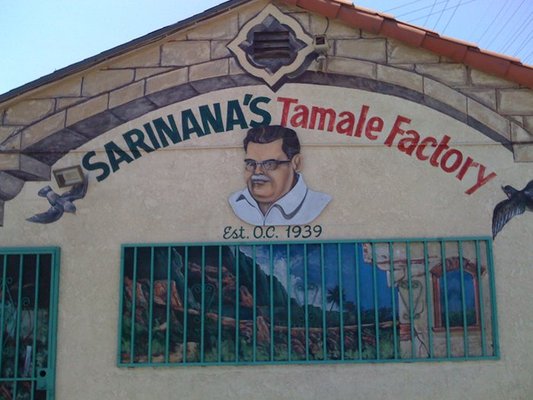 Many Santa Ana residents are thinking about tamales, for the holidays.  Fortunately there are a lot of good tamales to be found in town.
Sarinana's Tamale Factory
2218 W 5th St., Santa Ana.  (714) 558-8650.
My family has been buying holiday tamales from Sarinana's for years.  They also make great crispy tacos!
El Gallo Giro
1442 S Bristol St., Ste 1A, Santa Ana, CA 92704.  (714) 549-2011
Tamales are available by the dozen or individually.
El Toro Carniceria-Meat Shop
1340 W 1st St., Santa Ana, CA 92703.  (714) 836-1393.
Available in mixed varieties, by the dozen.  They sell masa too!
El Indio Tortillas Factory
1502 W 5th St., Santa Ana, CA 92703.  (714) 542-3114.
Grande Bakery & Tortilla
214 N Grand Ave, Santa Ana, CA 92701.  (714) 547-1851.
Although pan dulces are their strong point, Grande's tamales are very good and always fresh. The red chile beef and pork are equally good, but the star of the show is the green chile cheese. Tamales are made by hand continuously throughout the day. Extremely consistent in all respects. They open and close early, 6am–2pm and are closed on Mondays.
La Chiquita
906 E. Washington Ave., Santa Ana, CA.  (714) 543-8787.
Sammy Montoya celebrated sixty years of La Chiquita this year.  They don't always have tamales in stock, but when available they are very good.  Be sure to try their cheese enchiladas and crispy tacos too!   And their Chile Verde burrito!
La Rancherita Tortilleria Y Delicatessen
4406 W 5th St, Santa Ana, CA 92703
Las Brisas De Apatzingan
1524 S Flower St., Santa Ana, CA 92707.  (714) 545-5584.
Their Huchepo-sweet corn tamale are supposed to be quite good.
El Carbonero Restaurant
803 S. Main St., Santa Ana, CA 92701.  (714) 542-6653.
There tamales have potatoes in them!  Interesting…
El Curtido
300 W 5th St., Santa Ana, CA 92701. (714) 973-0554.
Pork tamales with veggies!
Casa Oaxaca
3317 W 1st St., Santa Ana, CA 92704. (714) 554-0905.
They serve tamales wrapped in banana leaves instead of corn husks.
Panaderia La Chapina
2230 W Edinger Ave., Santa Ana, CA 92704. (714) 437-9492.
Known for their $2 chicken tamales
La Cocina De Mi Abuelita
2640 S Bristol St., Santa Ana, CA 92704.  (714) 241-7166.
Tamales not always available.
La Poblana Bakery
604 W. Chapman Ave., Orange, Ca 92868 (714) 771-4465.
I believe it's a family-owned business. They have chicken, cheese, pork, and beef tamales. Very delicious!
El Chilito
15852 Pasadena Ave, Tustin, CA 92780.  (714) 730-9182.
Small mom 'n pop shop. Absolutely wonderful tamales. Deliciously flavored, well-textured masa. Perfect balance of masa and exquisitely cooked meat fillings. Made in small batches and individually wrapped with care in Saran Wrap a nice touch for portability and ease of re-heating. Special order larger quantities in advance. Variable taste and consistency but always wonderful.
Dorada Bakery, Inc
11552 Garden Grove Boulevard., Garden Grove, CA 92843.  (714) 636-3251.
Very good tamales, available by the dozen.
El Toro Bravo Tortilleria
727 West 19th Street, Costa Mesa, CA.  (949) 650-8272.
Outstanding tamales made en masse for direct and bulk sale. House-blended masa is exceptional in taste and texture. Fresh meat fillings are superbly seasoned and cooked. Love their red chile pork. Prepare to wait your turn in a line that moves fairly quickly. Reliable consistency.